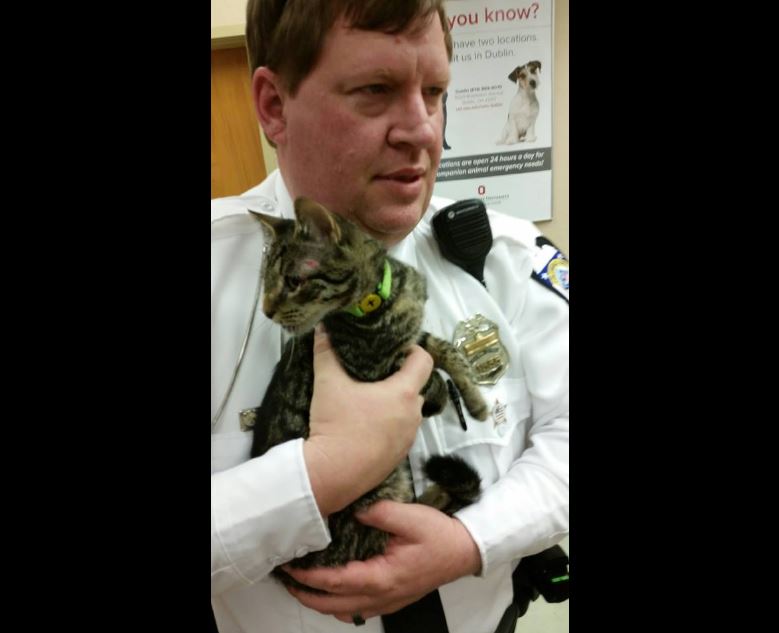 .
Columbus, Ohio police officers are getting thanks for their efforts rescuing a kitten stranded on the center median of a busy road.
Several officers responded to a call about the kitten Tuesday night, and a team effort saw some of the officers slowing traffic as two others managed to safely rescue the little cat.
The Columbus Division of Police told the story at Facebook Thursday night, writing:
"KITTEN STRANDED IN THE MIDDLE OF 315 RESCUED BY OFFICERS!!!
"After receiving calls from passersby Tuesday night, Officers were dispatched to a cat stranded in the middle of 315 south of Henderson Rd. Officers were concerned the cat was going to jump off the median and run into traffic, possibly causing an accident.
"Officer Barrett was dispatched & assisted 4 Precinct officers in slowing the freeway traffic. The cat was retrieved by Officer Hauenstein. It was taken to the OSU Veterinary Hospital. The cat ended up being a 6 month old kitten wearing a lime green collar with a yellow circle. At last check, the owner was not able to be located.
"The delay to motorists was minor & the positive actions taken by the officers was applauded by motorists [and] onlookers. The rescue was captured on cruiser video. We hope to share that with you soon! Way to go Officer Barrett & Officer Hauenstein!!!'
 
WSYX ABC 6 News reported on the story:
.
.