Poldi was reported missing in 1996, and was recently found in the woods near Munich. A faded ear tattoo identified him and he will go home at long last on Thursday.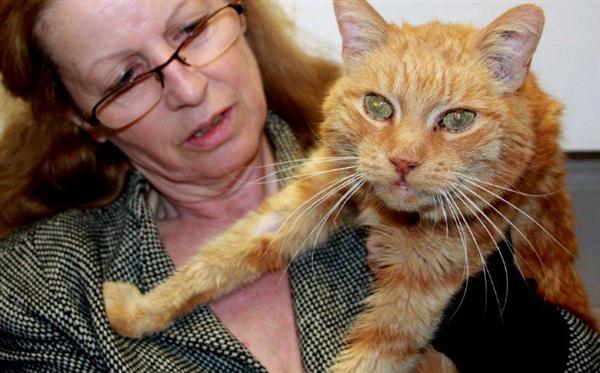 Poldi was found sitting on a log in the forest near the village of Aying by 19 year old Kilian Schoettel, who took him in a a stray. Poldi was very thin and appears to have been foraging on his own for quite some time.
The Schoettel family described Poldi as being very trusting and said that after feeding him for a few days they were able to see that he had a tattoo.
Poldi was taken to the Munich animal sanctuary, where his ear tattoo was read, and where he has been receiving medical care. His tattoo number was matched to records for missing pets, and his owner identified and notified. He has liver and, possibly thyroid issues now, and is quite toothless. A report in the Muenchener Abendzeitung describes him as being completely starved.
Shelter spokeswoman Eveline Kosenbach says that Poldi, who is resting in a quarantine section at the shelter, seems very glad to be warm, comfortable, fed and receiving care. Ms. Kosenbach told the German paper that Poldi's petmom believes he ran away because he didn't get along well with another cat in the household.
Poldi's petmom had long ago given up hope of seeing him again and was stunned to learn he is still alive. The two will be reunited and Poldi will finally go home after 16 long, hard years later this week. Thanks to his tattoo, a precursor to microchipping, Poldi did not remain an unknown old stray.