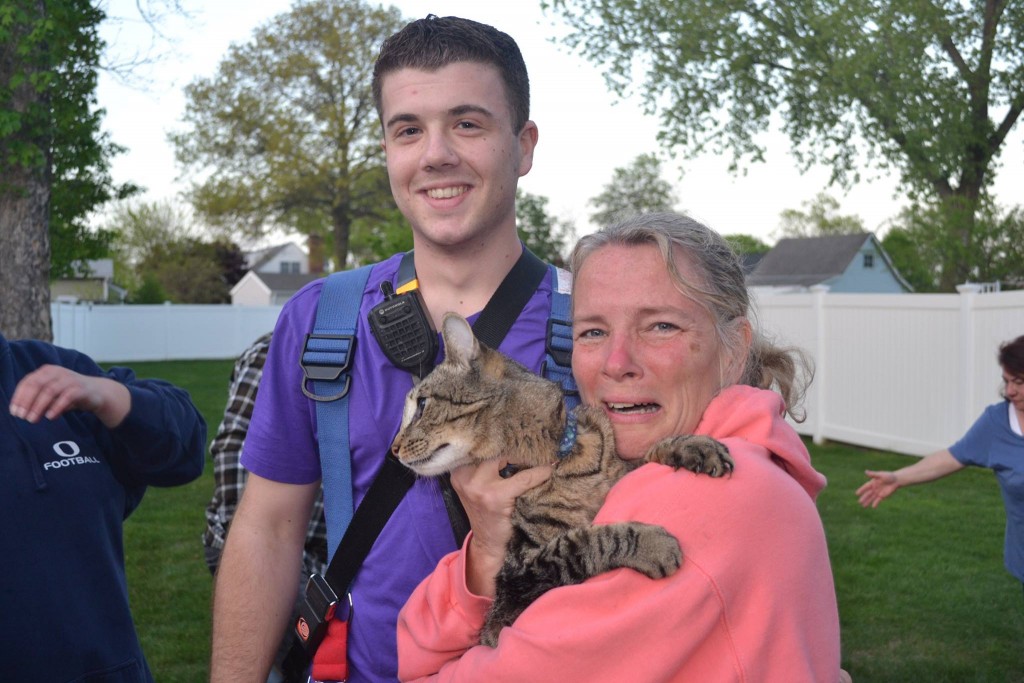 .
There were cheers and tears from firefighters and onlooking neighbors, and Roscoe's petmom was completely overcome with emotion, when firefighters rescued the tabby cat from a narrow dry well in Oceanside, Long Island, New York Sunday.
Oceanside Fire Chief John Madden and about a dozen firefighters came to the scene after neighbors heard Roscoe's faint meows coming from the 10 foot deep well and called for help.
After firefighters tested for dangerous gasses, a slim young firefighter went down the narrow well and, before long, Roscoe was back above ground, safe and sound.
As the rescue crew and onlookers celebrated, Roscoe's petmom was filled with emotion as she clutched her beloved cat.
"She was very emotional … she couldn't believe it was her cat," Chief Madden told the New York Post. "I think she had given up on seeing him again."
"It feels good when you bring [rescued pets] back to their owners," Madden continued.
"The Oceanside Fire Department shared photos taken by Keith Lane documenting the rescue at Facebook Sunday, writing: "On Sunday May 10th at 19:34 hours The Oceanside Fire Department was alerted for an animal emergency in the rear of a home on Atlantic Ave. Chief JT Madden requested Truck Co and EMS to respond to that location.
"Chiefs Madden and Bettes arrived and found a cat was stuck at the bottom of a 12 foot storm drain. Members of Truck Co. worked to remove the metal cover and lowered a ladder down into the the drain. A meter was first placed in the hole to make sure there were no lethal gases present, when it was apparent there were none FF Danny Leboff went down into the very tight space and was able to retrieve the cat and return it to his grateful owner. A loud applause went up from the crowd that had gathered.
"A VERY happy ending to Mothers Day. Great job by the entire crew."