.
Firefighters in Longview, Texas rescued a cat named Mazing from a fire at his home and treated him with oxygen at the scene.
Photographer Michael Cavazos was on hand on Thursday, April 16 and took this series of photos as Lt. Travis Pickle of the Longview Fire Department brought Mazing out from his home and treated him for smoke inhalation with a pet oxygen mask.
The fire was contained to one bedroom and did not destroy the house, but Mazing was affected by the smoke that filled the home. None of his people were home at the time of the fire.
"It is looking better. The cat was kind of wheezing when they got it out," Longview Fire Marshal Johnny Zackary said. "This time it did help to get some oxygen delivered to help the cat recover from the smoke inhalation. Whether it is human or pets, the smoke is a big concern of any fire."
The News-Journal reported on the fire and included the detail that Mazing had undergone surgery the previous day.
.
.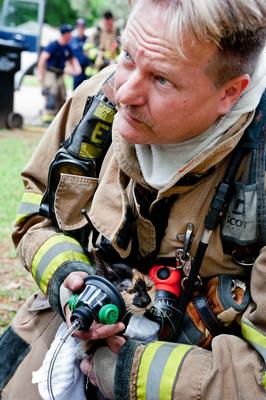 .
.
.