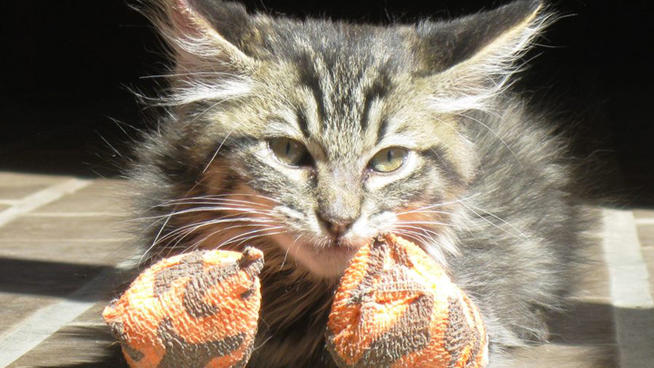 We covered Phoenix' s story on October 4, in Trusting Kitten Phoenix Purrs Despite His Burns. Phoenix is the 3 month old kitten abandoned at an LA shelter with chemical burns, who was then was taken to Helen Woodward Animal Center in San Diego by one of their rescue partners. As the title of that earlier piece indicates, Phoenix showed a sweet, trusting and loving nature despite his painful condition. It is not known whether the kitten's injures were accidental or intentional. He may have wandered into something that hurt him, or not.
The Helen Woodward Animal Center posted a heartwarming video update today with Phoenix easily walking around on his well wrapped and padded little paws. He has had a partial amputation of the damaged part of his tail. From the video, is is easy to see how he has charmed and enchanted those who have had contact with him.
The animal center wrote this introduction to the new video:
We are delighted and grateful Phoenix came to Helen Woodward Animal Center. He gives the gift of unconditional love to every staff member he meets and knows. Phoenix is still undergoing medical treatment for his burns; his paws must be re-bandaged and cleaned every day.
Dr. Oba says, "His nose and chin are healing well. His ears are slow to show any improvement. His paws have improved a little. We discovered that he really, REALLY loves chin rubs."
Thank you for all your well-wishes and encouragement! We will keep you updated on Phoenix's continuing progress.

An earlier video, below, from October 5, shows Phoenix being cuddled. The introduction recaps the description of his injuries and tells of his sweet disposition.
Abandoned at a Los Angeles shelter last Monday and transferred to Helen Woodward Animal Center by a rescue partner on Wednesday, the three-month old tabby shouldn't have survived, much less purr. With his front feet swollen, cracked and bleeding; tail, ears and nose red, raw and covered in a burning acrid chemical, any kitten should have been understandably terrified and wary. Instead, in response to the compassionate care of Center workers, the delicate feline has been treating staff members to gentle nuzzles and soft purrs. In fact, despite his amputated tail, struggle to walk and newly heavy-laden front-feet bandages, he even attempts to lovingly knead on the arms and chests of his new-found friends. In honor of his sweetly inspiring resilience and warmth, the Center staff has named him Phoenix.
Helen Woodward Animal Center's passionate belief that animals help people and people help animals through trust, unconditional love, and respect, creates a legacy of caring. Sharing this philosophy with others, the Center inspires and teaches, locally and globally, the importance of the animal-human bond.