Wendy Mitchell of Brick, NJ has started a petition in support of  Mark Rist, who was arrested last month for feeding a cat colony in Harvey Cedars. We have a link to the petition for anyone who wishes to sign.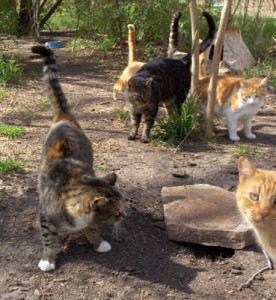 Neighborhood residents complained to Harvey Cedars authorities that someone was leaving food for a colony of cats living at the end of East Cape May Avenue, depositing 10 pounds of cat food at a time. The residents claimed to be offended by the smell of the food, which was removed by public works department employees. Police conducted a two month investigation before arresting Mr. Rist on December 29, charging him with littering and being a public nuisance for feeding 63 cats. Mr. Rist is scheduled to appear in municipal court for a hearing in February.  If convicted, he could face up to a $500 fine for each charge.
Issues surrounding the existence of feral cats in the borough have become contentious within the last couple of years, with public sentiment roughly evenly divided between those favoring compassion and TNR management and those considering the cats a nuisance to be dealt with, according to Michael Melchione, chief animal control officer for Stafford, which contracts with Harvey Cedars to handle their animal control needs. Harvey cedars residents made over 100 calls complaining about cat to animal control in 2011, resulting in many cats being removed and presumably put down. Animal control says the number of community cats residing locally has remained relatively constant in the time since their existence became a public issue.
Ms. Mitchell will present her petition to the court judge before the hearing; she is asking that the charges be dropped. Whether the petition influences the judge to drop the charges or not, it can let the court know that people are watching, and wish for Mr. Rist to be judged as someone acting out of  compassion and a desire to be of help. Petitions have been known to make a difference.
Here is the link to Ms. Mitchell's petition:
Change.org Petition: Honorable Frank S. Salzer: Drop the charges on Mr. Rist for no wrong doing of feeding feral cats