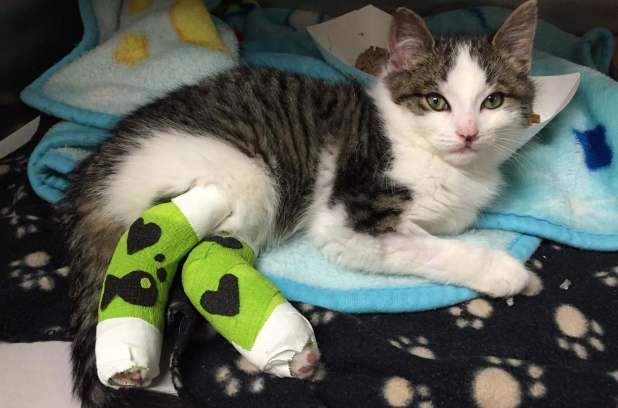 .
A kitten injured when he was thrown from a moving car a month ago is on the mend, and while Pedro was cruelly treated by someone he has been shown great compassion and has been helped by many.
Animal rescuer Mandi Howard was in the right place at the right time when Pedro was thrown from a car onto a busy highway on December 3, 2014. The Toronto area woman witnessed the kitten being thrown from a car, saved the injured baby, and took him to get help. She has also offered to give him a home.
Mandi thought she'd seen someone throwing fast food trash out of their car window on Highway 427 in Toronto when she witnessed the kitten being thrown onto the highway. Then she saw fur blowing around on the 'trash' and realized what had actually happened.  She pulled off the road and walked carefully along the margin toward the animal, a kitten not more than a few months old, then waved away the traffic and picked him up.
Mandi, an emergency nurse, carefully wrapped the injured and screaming kitten and drove him to the Toronto Humane Society, singing to him during the ride to help calm him down
Vets at the Humane Society treated Pedro for scrapes, sewed up his split lip, and put splints on his back legs. All of the toes on the kitten's back paws were broken.
We shared the story of Pedro's rescue on December 8, with Rescuer saves kitten thrown from car.
At her sister's suggestion, Mandi opened a fundraiser at indegogo to help with Pedro's medical costs, for his emergency care and followup. The community responded with an outpouring of generosity, and the campaign raised over $9,500, well over its $2,000 goal.
The Toronto Humane Society has covered Pedro's current medical costs, which it estimates at $1,000.  Monies from the fundraiser left over from Pedro's followup care will go to the Toronto Humane Society.
Metro news made an update on Pedro on Wednesday.
Pedro is doing well in his recovery and even though he has splints on his hind legs he is playful.
"He's not the bounciest kitten at the moment," said Makyla Deleo from Toronto Humane Society. "But he's still playing."
Deleo says Pedro will continue to wear the splints for another three or four weeks. After they are removed and he gets the ok from his caregivers, he can be adopted.
"Once his little bones are healed, he'll be a happy and normal cat for the rest of his life," she said.
Mandi Howard indicated back in early December that she would be willing to adopt Pedro. Makyla Deleo noted that Mandi has filled out an application and has shown "extreme interest" in adopting Pedro, but says that the kitten's future is still undetermined.
 
.