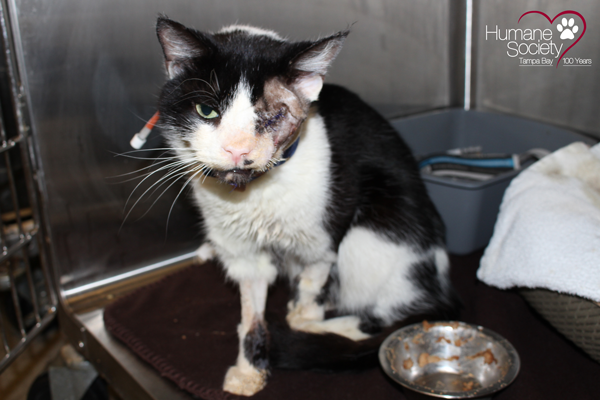 The drama surrounding Bart, the severely injured Florida cat who dug himself from the grave and made his way to a neighbor's yard last month, continues after his caregivers at the Tampa Bay Humane Society announced that Bart would not be released to his owner, Ellis Hutson, after his recovery.
On Tuesday, Hutson filed a lawsuit against the Tampa Bay Humane Society claiming that the organization has kidnapped his cat and won't return him. Hutson and his vocal friend Dusty Albritton, who started the GoFundMe fundraiser that raised several thousands of dollars that have not been applied to the cat's veterinary care, assert that the humane society is using Bart for his fundraising and publicity value.
The Tampa Bay Humane Society reversed their decision to return Bart to Hutson after a video uploaded to YouTube by Albritton surfaced, where one member of his inner circle is heard saying she saw that Bart was alive before his burial. Hutson has claimed he thought Bart was dead when he was found in the road after being hit by a car. Another neighbor was tasked with burying Bart in the shallow roadside grave from which he later emerged, to return home after 5 days.
TBHS also cites concerns that Hutson has not provided an acceptable home environment for Bart.
The humane society said its attorneys are exploring all legal options to keep Bart safe and secure. The Hillsborough County Pet Resource Center is looking into the case, and has informed the humane society that they will be sending an officer to investigate the situation at the Hutson residence.
Meanwhile, Bart continues to improve, and his caregivers at the humane society's medical center are beginning to see his personality emerge.
Bart came into the humane society's care when Hutson brought the injured, weak and dehydrated cat for treatment at their medical facility after he'd returned from the grave. Hutson told the humane society he was unable to pay and the organization agreed to cover Bart's medical costs. Bart had to have a badly damaged eye removed and needed to have his broken jaw wired so it could properly heal.
The humane society made an update on Bart's recovery on February 6, saying: "We have some great news about Bart! Check out that empty dish to his right (in the photo above), he is eating like a champ and taking his meds orally with no complaint. When we went to visit him, he was cleaning himself and full of meows and headbutts for us. He is definitely feeling better and his cute little personality is starting to shine through even more."
Bart was provided with a feeding tube, to keep him properly nourished as his jaw was allowed to heal. Each effort on his part to eat on his own has been cheered by his caregivers.
Bart looks considerably improved in the February 6 photo seen here, appearing to be stronger, more alert and generally healthier than before.
Shortly after this post was published, TBHS made a fresh update to Bert's news and recovery page, saying:
"UPDATE! February 11, 2015– On Tuesday, February 10, 2015, the Humane Society of Tampa Bay was served with official Hillsborough County Court documents notifying the Society that it is being sued by Ellis Wayne Hutson for the custody of Bart the cat.
"Mr. Thomas Gonzalez, of Thompson Sizemore, Gonzalez & Hearing, has agreed to volunteer his time to represent the interests of Sherry Silk, the Humane Society of Tampa Bay, and Bart the cat. The Humane Society of Tampa Bay will review all legal options to keep Bart safe and secure. Bart continues his medical treatment and care at the Society's animal hospital."
Watch the WFTS report on recent developments in the case:
.
For more on the story, see our earlier posts: