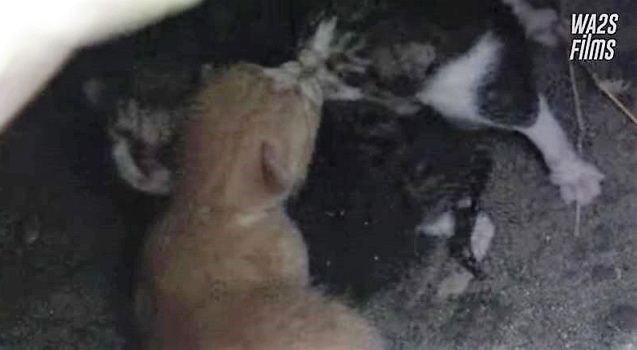 The street animal population needs help and many descended on a Dominican Republic resort town with a four-day objective aimed to help better control the situation. WA2S Films was there to capture the event and has just released episode 1 or a 12-part short film series called Operation Punta Cana, focusing on the juxtoposition of a high profile resort frequented by thousands of the most wealthy against the street dog's living just outside the gate.  The founder of Houston's Forgotten Dogs of the Fifth Ward, Kelle Davis, was volunteering in this resort town to assist with a large scale spay and neuter event.
However, it wasn't street dogs that first received Kelle's attention. Security guards approached the group requesting assistance for some tiny, days-old kittens that needed help.
Kelle was incredibly touched by the sincerity of the security guards over their concern for the kittens, their compassion, and their appreciation that someone was willing to step up to help the street animals of Punta Cana.
To learn more about Operation Punta Cana and its ambitious goal of 4 Days = 400 Dogs / Cats Spayed and Neutered , be sure to following the dedicated WA2S Films YouTube Channel: http://www.youtube.com/WA2Sorg.
Special thanks, as well, to the following organizations for their support in this project:
Rescatame: https://www.facebook.com/Rescatamepuntacana we salute you!
Caribbean Spay Neuter: https://www.facebook.com/caribbeanspayneuter
WA2SFilms  http://www.WA2S.org