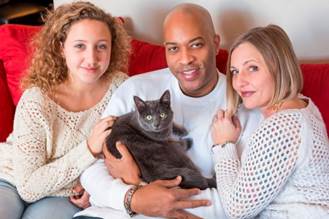 .
(Phoenix) – After attending a PetSmart Charities National Adoption Weekend, three broken hearts found comfort in one kitten looking for her forever home. With the adoption of Missy June, PetSmart Charities celebrated its six millionth adoption dating back to 1994, and the Johnson family celebrated a new beginning.
Mending Hearts
Neptune, N.J. resident Wayne Johnson was simply looking to gain insight on the adoption process after losing his cat, Bushin, when he visited the PetSmart Charities adoption center during a National Adoption Weekend event. His wife, Amanda, and their daughter, Queyana, were pleasantly surprised when instead of coming home with adoption pamphlets, he returned with a dark grey kitten with bright green eyes.
The Johnsons adopted Missy June to help cope with the loss of their beloved cat, and after a few months, it became clear that Missy June had not only filled the void in their life but also found her forever family. She has become a "little sister," snuggle buddy and playmate to Queyana, and has taught her the importance of adoption.
PetSmart Charities reached six million cat and dog adoptions when Missy June found her forever home. On average, PetSmart Charities saves 1,000 pets every day or 400,000 pets every year through its adoption programs, local adoption events and National Adoption Weekends. In fact, an average of one pet's life is saved every minute a PetSmart Charities adoption center is open.
"The Johnsons' story is a perfect example of how adopting pets can not only save lives, but change lives," said Julie White, senior director, PetSmart Charities. "I am beyond thrilled for this family and even happier for the next six million pets who will find their forever families."
Read more about the Johnsons and Missy HERE.
.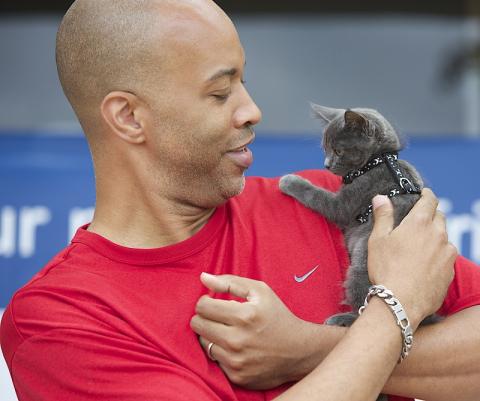 #
.
About PetSmart Charities™
PetSmart Charities, Inc. is a nonprofit animal welfare organization that saves the lives of homeless pets. More than 400,000 dogs and cats find homes each year through our adoption program in all PetSmart™ stores and our sponsored adoption events. PetSmart Charities grants more money to directly help pets in need than any other animal welfare group in North America, with a focus on funding spay/neuter services that help communities solve pet overpopulation. PetSmart Charities is a 501(c)(3) organization, independent from PetSmart, Inc.