.
An extremely fat cat has lost weight and started moving after 3 months on a carefully controlled weight loss program.
When Sumo's family moved at the end of June they turned him in to RSPCA Queensland, Australia, saying they were unable to keep him and take him along on their move. Shelter staff said at the time that they were astonished at Sumo's huge size and great weight. At 31.5 pounds (14.3 kg) he was 3 times his ideal weight.
RSPCA staff renamed the big displaced kitty Sumo, for obvious reasons, and shelter veterinarian Vicki Lomax said Sumo was "the biggest cat I've ever seen and I've been a vet for 45 years."
Sumo went home with Wacol RSPCA, Brisbane vet nurse Tanya Boland, who has him on a carefully controlled and monitored weight loss plan where he is fed two cups of low-fat food daily.
"We can't reduce his food intake any faster or it would cause his liver to break down,'' she said.
After 3 months on his weight loss program, Sumo is down to about 26.5 pounds (12 kg) and has greatly increased freedom of movement.
Tanya told Daily Mail Australia for a story update that the big kitty is much more active and is "quite amused" that he is now able to lick his much smaller belly.
"He's doing really well."
"He's been running around, he's a lot more agile."
"He's been playing with my cat and bit more and playing with the toys," Tanya said of her 9 year old foster. "They're like brothers and sisters, sometimes they get a long and sometimes they fight."
"He's a lot more active and he's happy he can lick his belly and his back."
Tanya told the Daily Mail that Sumo's favorite activity is running up and down her hallway with his special toy, a mouse that makes rattle noises.
While she has enjoyed Sumo's company, and says "'he's a funny little character," Tanya says she does not plan to adopt him and has a possible adopter lined up.  A friend's mother who has dealt with a fat cat before is said to be interested in giving Sumo his forever home.
RSPCA Queensland wrote at Facebook with an update on Sumo's progress on September 24, saying: "You may have seen in July a very large cat called Sumo that came into RSPCA Queensland care. He is the heaviest cat brought in to the RSPCA in at least half a century!
"One of our veterinarian's Lobke Buhrmann said he weighed twice as much as he should. "I've never seen a cat this big before,'' she said. "We've started him on a weight-loss program. Overweight cats can get diabetes, liver problems and they are more likely to get cancer and have leg problems. Their joints are affected and Sumo's already developed a rolling gait. He sways.''
"Since his arrival, Sumo has been on a strict diet to help his health and get him back on track!
"Sumo has now lost just over 2kgs and he is certainly enjoying his time in a foster care home. It's a slow process for Sumo but the best option so he can benefit in the long run. We will keep you updated as Sumo progresses over the coming months. Thank you to Hill's Pet Nutrition Australia for providing Sumo's special prescription diet metabolic food."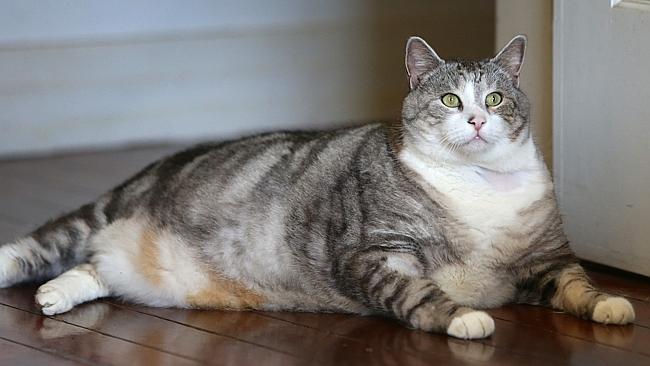 .
.
.
.
.
.
.