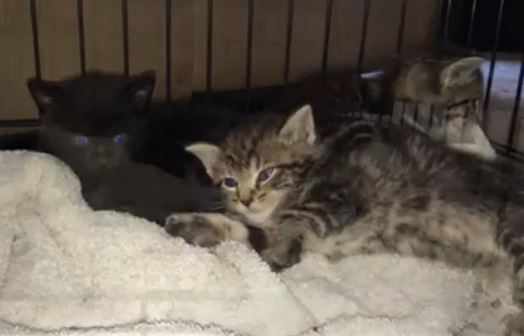 .
A woman doing her rounds as a newspaper delivery driver discovered a litter of abandoned kittens at the bottom of a box that dispenses papers on the street and took the babies home.
Shirley Moller was working her route for the Ohio newspaper the Bellefontaine Examiner when she discovered the three kittens inside a machine in front of the Firehouse Pizza and Subs in Zanesfield. She heard meows but at first didn't see the little baby animals.
"If the little black one hadn't popped its head up from under the rack, I'd never have seen them," she said. "I'd have shut the door and gotten back in the car," she said.
Commenting on the abandonment, Ms. Moller said: "It's just sad that people have to go to that kind of extreme to get rid of an animal."
"They're living animals, they're not just something for you to just throw away."
The kittens were, thankfully, healthy and in good shape when found, and Ms. Moller took them along for the ride as she finished her route.  The local shelter said they were full up and unable to take the kittens, so Ms. Moller took them home. She is caring for the kittens until they can be adopted.  The story has been covered by local news sources, and there have already been inquiries from interested adopters offering to provide good homes.
Ms. Moller left a message for the person who so callously abandoned the kittens, taping a sign to the newspaper box that reads, "To the inhumane person that put those poor kittens in this box: I hope they lock you up and put you in a locked box!"
Ms. Moller reported the incident to the Logan County Sheriff's Office. The Sheriff's office says this is the second recent case in Zanesfield where kittens were found abandoned in a mail box.
Logan County Sheriff Andrew Smith said if the person who left the kittens locked in the newspaper box is found, they will be charged with animal cruelty.
.
.
The Bellefontaine Examiner covered the story first, on Thursday, writing:
Carriers of the Bellefontaine Examiner have been involved in a variety of incidents over the years — from thwarting robberies to performing well-being checks on subscribers — while delivering their respective routes.
What motor route carrier Shirley Moller found Tuesday afternoon in the Examiner's single-copy machine at Firehouse Pizza and Subs in Zanesfield took her aback.
As she approached the machine, Ms. Moller heard a "meow" and when she opened the door three small kittens were staring back at her from the bottom of the box.
The kittens — two tiger-striped and one black in color — are healthy and in need of a home, she said.
.
WHIO visited Ms. Molle for this video report:

.