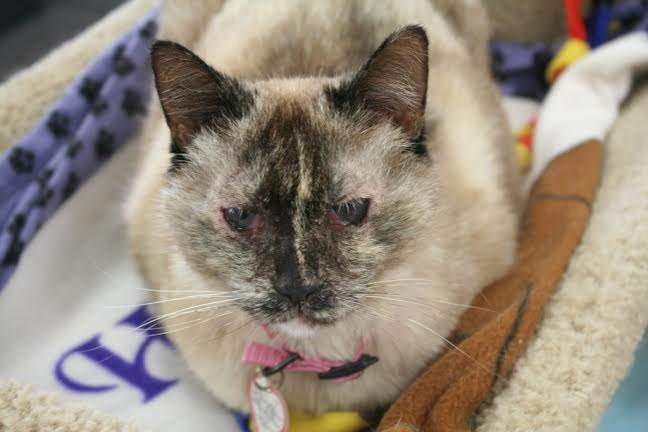 Satin and Sumiko, two Siamese mix strays, had been surviving for months thanks to the generosity of a caring neighbor who would put out food for them. While doing so, the man noticed that Satin had a problem with her eyes and seemed to be unable to see, something that could be a death sentence as a stray. Incredibly, her feline partner, Sumiko, would not abandon her and instead led her around and always looked out for her!
After months of providing food, the man realized that he could no longer afford to do so but he cared enough to not simply abandon them.  Instead, he brought them to Happy Tails Pet Sanctuary, a no-kill animal rescue organization serving the Sacramento area.
When Satin and Sumiko arrived, volunteers took one look at the two cats and knew they had to do something. Satin's eyes were so swollen, red and pussy that she was virtually blind. Everyone was also touched as the man recounted the two cats' dedication to one another. Talk about heart wrenching!
Satin turned out to be at least 10 years old and was diagnosed with entropion, a medical condition in which the eyelids fold inward and the eyelashes constantly rub against the corneas, irritating the eyes and making it extremely uncomfortable.
Several trips to the animal eye specialist and one surgery later, Satin had her eyesight back! Not only that, but Sumiko and Satin found a forever home together so that they can continue to stick by each other's sides.
———————-
Satin and Sumiko are just two examples of the many animals that Happy Tails Sanctuary rescues. Happy Tails is Sacramento's first no-kill pet sanctuary, founded in 1993 by volunteers committed to a common mission: To create a safe haven for abandoned and abused animals. They rescue abandoned, abused and unwanted cats and dogs in the Sacramento area and find them safe, loving and permanent homes. They are a cage-free rescue organization, utilizing foster homes until a permanent home is found.