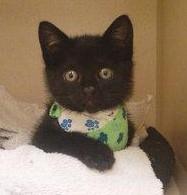 This is Chipotle.  Earlier this month, she inspired a group of strangers to work together to rescue her from danger on a busy roadway. The rescue took place on a  section of road beneath an overpass in Wichita KS.
Drivers Gloye Gloudeman and Tim Gleydura spotted the then-5 week old kitten in the roadway and, between them, slowed traffic to clear the way, and then made the rescue.
Ms. Gloudman was quoted saying "I saw a black spot on the road and those beady little eyes looking back at me. Those eyeballs just touched my heart."
When the kitten tried to climb up into the undercarriage of the car stopped behind Mr. Gleydura, he was able to pick her up and place her in a bag he had on hand. The bag was from a restaurant called Chipotle, and that is where the little girl got her name.
Mr. Gleydura noticed during the rescue that Chipotle's right, front leg was injured. The kitten is now at Cornerstone Animal Hospital, under the care of Dr. Jennifer Fry. Dr. Fry says that Chipotle's leg is broken, with nerve damage, and the leg may need to be amputated when Chipotle is stronger. For now it is wrapped.
Dr. Fry says that while Chipotle was likely a feral cat, she was rescued and brought to the hospital at a young enough age for her to have become socialized. She has been at Cornerstone since October 10, and will be adopted out when she is healed and ready. The animal hospital is accepting donations to help with Chipotle's care.
This tiny, injured feral kitty was rescued by good hearted people just going about their business on a Wichita roadway. Her story makes one victory, one cat saved.