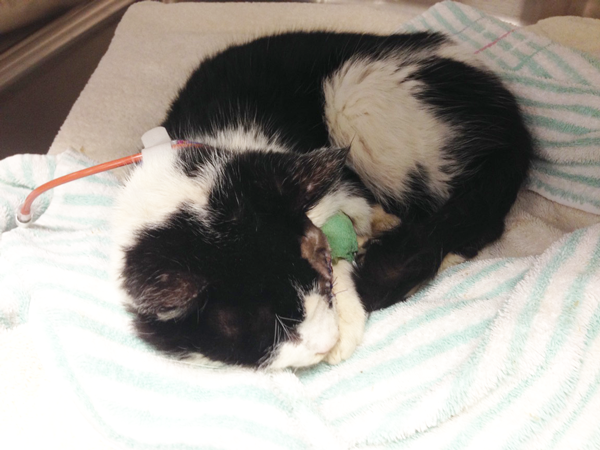 The 'weird news' story of Bart, the injured "Miracle" or "Zombie" cat from Florida who dug himself out of his grave and showed up at a neighbor's home 5 days later, continues to evolve.
Bart's owner, Ellis Hutson, had a neighbor bury the cat after he was found bloodied and seemingly dead – as the story was told – in the road after being hit by a car.
Bart has been in the care of the Humane Society of Tampa Bay since Hutson, took him to the Humane Society's Animal Health Center after the injured, dirty and dehydrated cat returned from the grave.  Bart had surgery last Tuesday to remove a badly damaged eye and to wire his broken jaw. The following day he received a blood transfusion because he was somewhat weak and anemic. Bart's medical expenses were covered by the Humane Society of Tampa Bay's Save-A-Pet Medical Fund
The Humane Society of Tampa Bay initially defended Hutson and said Bart would be returned to him, but after new information came to light they announced on Friday that they'd reversed their decision to return Bart to Hutson.
A YouTube video (seen below) uploaded by neighbor Dusty Albritton after the cat's return includes commentary that is contrary to the original story. Toward the end of the video, where the cat is called Markie, a voice the Tampa Bay Times identifies as coming from Hutson's girlfriend, Candice Mclendon, is heard saying: "He might not have been dead. Cause when I found him … he was moving and stuff," and that she "couldn't look at it."
"I was like, 'go get him and bury him somewhere,' " Mclendon continued. "[Hutson] said he wasn't gonna do it. He was gonna let Dave do it, and he moved him out of the way."
Nash McCutchen, the Humane Society's marketing coordinator, said the organization does not dispute the rest of Hutson's story
"What we're questioning is, was there a period of time where (Bart) could have received help before they knew for sure he was dead?" McCutchen is quoted saying the the Tampa Bay Times article.
The Humane Society feels Bart was not cared for in the best manner; he was kept as a primarily outdoor cat but was not neutered or vaccinated. They feel he would do better inside and are concerned about him living with Hutson's toddler.
Also at issue is a GoFundMe fundraiser for Bart's medical care started by Albritton that has raised $7,000. The Humane Society says it has not received any funds and has not asked Hutson for payment.
Hutson says he is grateful to the Humane Society but wants his cat back.
"I don't agree with them trying to remove my cat from me," Hutson said. "I'm gonna do everything in my power to get him back. I didn't do anything wrong."
Hutson also reiterated that the cat was not moving when he found him.
"If Bart would've had any life in him, I would've taken him in my truck to the Humane Society," he said. "I removed an animal out of the road. I would've done it for any animal, not only my animal."
Humane Society addressed the matter with a statement posted as an update at a page devoted to Bart and his story at their blog, writing:
Recently we have learned new information about Bart's home environment and the circumstances leading up to his burial. Therefore, the Humane Society of Tampa Bay does not intend to return Bart to the Hutson family. We are prepared to fight for the best interests of this cat. We hope the Hutson family will do the right thing and surrender Bart to our care so that we can find an appropriate environment for him to live out his life.
The Humane Society of Tampa Bay's Save-A-Pet Medical Fund, along with donations for Bart that we have received from generous individuals all over the world, will cover the cost of all medical care required and will help replenish our Save-A-Pet fund for other animals in need. We are not asking the Huston family for any money to cover any costs.
The Humane Society of Tampa Bay had no involvement with the creation of the GoFundMe campaign set up to cover the cost of Bart's medical care, nor have we received any funds from the account to date. Again, Bart's medical costs are being covered by our own Save-A-Pet Medical Fund. Our concern is for Bart's future.
As always, the Humane Society of Tampa Bay is dedicated to the plight of companion animals in our area and strives to protect and promote their best interests at all times.
See our earlier posts on the story:  Miracle Cat, Back From The Grave! and Cat who returned from the grave recovers from successful surgery.
Watch an WFTS-TV ABC Action News report on the latest developments in the story:
.
.
Here is Dusty Albritton's video, which is captioned:
Markie. Was attacked by a racoon or pit bull 5 days ago he was buried stiff dead and a pool of blood. On 1 22 2015 he came to my door step alive I know for a fact this cat was dead. it has been confimed by the ASPCA he was in fact buried , many are having a hard time believing do you believe in Gods work and miracles?