Angela Gebhardt traveled halfway across the US  to adopt Mea from Last Chance Animal Rescue after seeing her photo at Facebook.Mea's eyes had to be removed due to a severe infection and Angela couldn't get her out of her mind.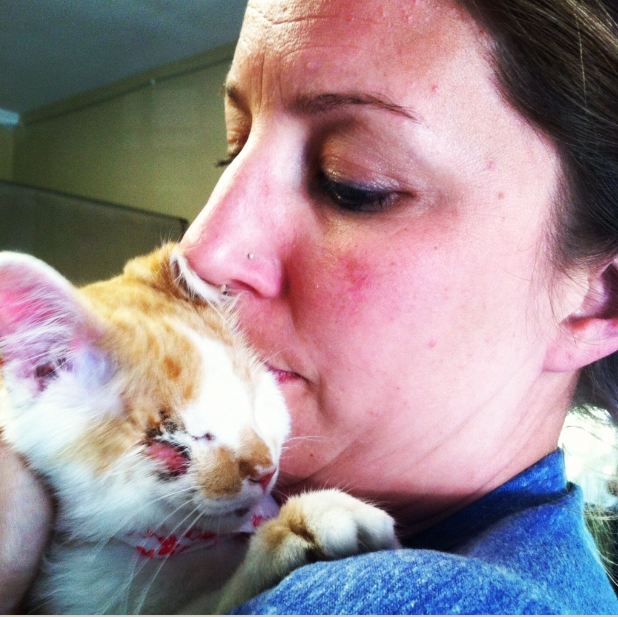 This was the moment I first got to hold my baby.
We became acquainted with Mea's story after Angela started posting videos of her new kitty at YouTube recently. Though she has only been in her new home in Lincoln, NE for a month, Mea has adapted to her new surroundings and become part of the family. Angela hopes Mea's story and videos will help to show that kitties who are blind can have wonderful and normal lives.
Angela tells Mea's adoption story:
I hope this will be an inspiration to many animal lovers to see that an animal with a "disability" is simply unique and special yet can live a VERY full life! They don't KNOW they're disabled so life is SO good!
Being an animal lover, I have "liked" many pages on FB and follow them for their stories. One page I had liked was Last Chance Animal Rescue (LCAR) located in Waldorf, MD. On 3/6/12 I saw a picture of this little BEAUTIFUL girl kitty that had just gone through surgery to remove her eyes that were so badly infected they could not be saved. She tugged at my heart so I HAD to email LCAR just to see if they'd consider a "half-way-across-the-country" adoption.
Not thinking I'd hear back from them, I ended up getting an email a week later that they'd love to consider me! I got the application, filled it out and faxed it the same day. Within another week, I was talking with the director of LCAR to arrange a time for me to come out to MD and pick her up.
Well, it just so happened I was going to be in Washington DC giving a presentation at the Children's Bureau 18th National Conference on Child Abuse & Neglect the week of April 15-20, so we arranged for me to come get Mea on that Friday, 3 weeks from the date I talked with LCAR. The people there are SO amazing and took SUCH good care of my little girl while I anxiously anticipated going to get her.
When I went in to meet my baby, it was instant love and I cried so hard that the time was FINALLY here to bring her home. The picture of her on my left shoulder  at the top of the story was taken at the moment when I first got to hold my baby.  The sore on her cheek has now completely healed, and the ladies said it was just from her rubbing against the cage and scratching.
I learned from Cindy, Monique, and the other women at LCAR that Mea was originally from Miami, FL! I don't know what her first 11 weeks of life was like, but at 11 weeks old she traveled to LCAR and arrived 1/16/12 where these amazing women treated her as their own and took care of her SO well! Their facility has cats everywhere and they are constantly around humans and being loved at all times, as many of the cats' cages are right in their offices!
Anyway, I brought her to the airport and back to Nebraska and she didn't cry or even meow the entire time! When we got in the car to drive the last hour home, my friend Hannah let her come out of her carrier for a little bit and she INSTANTLY was up on her shoulder giving her full-on body bumps, not just head bumps, and purring like crazy! I've attached a picture of that moment; it's a little dark because I was taking it at 11:00 at night
When we got home, we (my other half, Dusty & myself) put her in a room we'd set up for her, right in her litter box and she didn't move for a few minutes. I don't know that she understood she had an ENTIRE room to run around, but in just a few minutes she heard the water fountain we bought for her so started sniffing her way around the room and immediately found her water bowl and food bowl, so we gave her a little wet food and BOY did she gobble that up. There's a video on my youtube page Mea the Beautiful Kitty That's Blind of her loving on Dusty (it's a little bit longer one) but it shows you the AMAZING love this little girl has!
After a few hours alone in her room to get comfortable, I walked back in about 6 a.m. and she was sitting up on the footstool of the glider! During that first morning she had figured out how to get up on the glider, over to the window to smell the outside and back down again. She was playing with my other cat, Peanut, under the door (with a little hissing every now and then, of course) and I could tell she was going to dominate when it was time for them to meet.
To my surprise, she had fully navigated the room and was playing with her star chaser (there's a video of that) and her crunchy ball (video of that too) in complete confidence within 3 days! So, after a week at home, we started slowly introducing her to Shadow (our 8 yr. old male black cat) and Peanut (our one yr old male tabby cat). Shadow didn't really care about her (haha!) and they just walked around each other, but O MY GOODNESS Peanut wanted to play and play and play with her!
She was a little timid at first, but when we let her out into the rest of the house, she was up on the couches and mastering our 4 level cat house within another week. Not to say that it was the same amount of time and she'd figured out how to get up on the bed to sleep with us. So now we have 3 cats and 2 humans in our bed every night. How did I get so lucky?! She now will jump on Peanut and they play like true brother and sister, but they also give each other TONS of kisses and hug on each other as well!
Peanut giving her a hug as she licks his chin, SO SWEET!
It's been three weeks that she's been home on 5/12/12 and I can not even remember what this house was like without her here! Seriously, she became part of our family immediately, and was owning the house within two weeks! She is a cuddler & a lover but also a VERY playful little girl! When my friends come over, everyone says how they can't believe she's blind b/c she doesn't act like it. Of which I respond, "well, how's a blind cat supposed to act?!" She doesn't know she's blind. As far as she knows, she's the biggest, baddest, sweetest, most important thing around…and I can't disagree with her. As far as we know, she has no disability! Of course, when she gets really excited or there's a loud noise, she'll occasionally run into the side of a table, or have to stop to get her barrings, but other than that, you would never know she's blind
Angela has created a new Facebook page for Mea, called Mea the Beautiful kitty That's Blind to share Mea with the world and to help raise awareness on the good and full life that a blind kitty can have. Anyone interested can "like" and share this new page to follow Mea and help Angela with her efforts.
A selection of Mea's videos:
Mea loving on Dusty.

Mea the Master

Mea & Peanut Playing