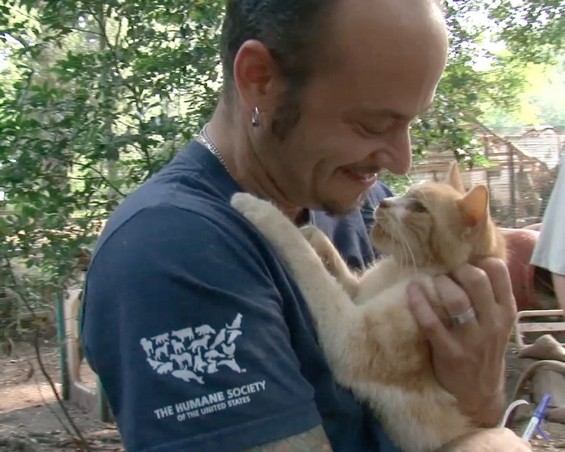 The Humane Society of the United States, ASPCA, University of  Florida College of Veterinary Medicine and others assisted as large numbers of animals were evaluated and removed from Haven Acres Cat Sanctuary yesterday, with the shelter under investigation.
Several cooperating animal organizations, agencies and medical specialists joined in to mount a massive removal effort as over 500 cats were taken from Haven Acres Cat Sanctuary in High Springs Florida on Tuesday.
About two weeks ago an Alachua County animal services staff member reportedly found a dead cat in a cage at the sanctuary, along with several sick cats and an investigation was launched. Animal Services Director David Flagler says the investigation revealed a hoarding mentality. He also says the sanctuary, owned by Steve and Penny Lefkowitz, houses more cats than are allowed, and the investigation focuses on animal neglect and cruelty.
Steve and Penny Lefkowitz  got a special zoning exception from the County Commission to operate Haven Acres, and the sanctuary has been the subject of local controversy for several years.
Ms. Lefkowitz claims the investigation and seizure amounts to grandstanding by organizations who are looking for a big case to use to solicit donations. She also expresses concern that the stress of being taken from their home will hurt the cats and cause some of them to die.
She addresses the overcrowding issue by saying that this time of year people drop off cats in great numbers and it's not her fault, and she says some cats are sick already when they come to the sanctuary. She says she and her husband spent $33,000 on the sanctuary's operation last year.
The number of cats allowed at the sanctuary has been the subject of ongoing concern and action, with complaints from neighbors, and the Lefkowitz's were currently operating under an allowance that they gradually reduce the number of cats on the property to around 200.
In quote from the Gainesville Sun, Ms. Lefkowitz says: "Spring happened and that's kitten season — we've had people dumping cats right and left. My husband called up absolutely furious one day — somebody had dropped off 17. There were some cats that were sick. You can't have cats in the hundreds and not have some sick. But I have vets that prescribe medicines. You get a cat with a snotty nose and you know you need to treat him for a respiratory [infection]. It doesn't need a $35 vet visit."
Animal Services director Flagler says a large air-conditioned warehouse has been secured to house the cats while they are being evaluated to determine which of them will be subject to health related euthanization. He says that the decisions will be made by the veterinary examiners and that his goal is to save as many of the cats as possible.
United Animal Nations, a California-based nonprofit organization, will operate the temporary shelter with several volunteers from across the US. Many of the cats will eventually be dispersed across the country with various organizations because the local area cannot absorb them all, though a judge needs to award ownership of the animals to Animal Services before that can happen.
Neighbor Lori Hillman, who lives behind Haven Acres, was among the neighbors who opposed the zoning exception allowing the sanctuary to have large numbers of cats and said she was saddened to learn that some were in bad shape.
"We have nothing against them personally," says Ms. Hillman. "We love animals. When I went over there once, I saw cats that made me cry."
Slideshow of the removal operation.
All photos from the Gainesville Sun