Maryland legislators will consider enacting a stats animal abuser registry, via a bill set to be introduced by Sen. Ronald Young.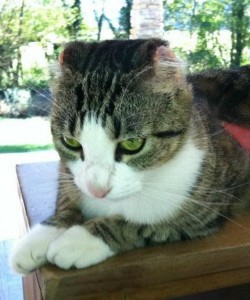 Mittens, Maryland resident and ASPCA cat of the year
Sen. Young, the bill's sponsor, says people need to know who's who in their neighborhood to help prevent future abuse.  In off-the-cuff commentary for a news report, he said, "Hoping to prevent them [abusers] from adopting other animals hoping to warn neighbors that there is someone in your own neighborhood and you're aware of it and you can watch out for you own pets and hopefully being there is a warning to them to not to do it again."
The registry bill is expected to be introduced any day now. If the abuser registry is enacted, abusers will be required to remain on the list for 10 years.
The news report below includes remarks by Ron Young about the need for the registry and what it can do. It also features Carolyn Kilborn speaking on behalf of her group, Maryland Votes for Animals, as she calls her state a "backwater" when it comes to laws for the protection of animals.
Animal advocates are also promoting statewide efforts to limit pet stores from doing business with puppy mills and to extend a spay and neuter task force.