Noland, Lurlene, and her kittens are all doing well! Noland is starting to walk and his kitten "sisters" are beginning to play! Mama Lurlene is also doing wonderful!
Cleveland Animal Protective League at Facebook
Our story Cat Adopts Newborn Pitbull Puppy, from June 19, told of Lurlene, the Mama kitty at the Cleveland Animal Protective League, in Cleveland, OH, who wass helping shelter workers try to save a tiny pit bull puppy named Noland that came to the shelter at one day old, brought by a family who said the mother dog rejected him.

Lurlene wholeheartedly accepted Noland into her litter of kittens, and cared for him several hours a day. Meanwhile, Noland was getting bottle feedings and going home with staffers at night.  Because he'd been separated from his mother at one day old, shelter staff felt they needed to take a wait and see approach to whether he would survive and thrive.
Lurlene continues to care for her little blended family, and the APL announced at Facebook today that the little pup is doing well and is trying to walk.  Lurlene and her kittens – Rivette, Espa, Zixi and Tallydab – are all doing well, too.

The League is not accepting adoption applications yet for any of Lurlene's babies.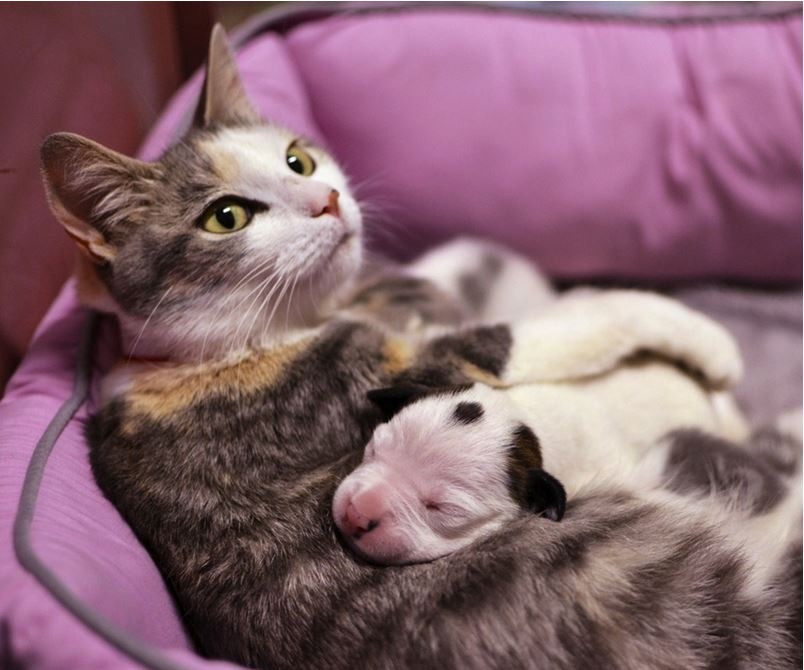 .
Lurlene takes care of her little family:
.
.
Lurlene takes time away from her mothering duties to steal some treats:
The shelter is not yet accepting adoption applications for Lurlene's kittens and Norland,but they've got plenty of other cute kittens available right now … :