Magic Mike was rescued after a Good Samaritan in San Antonio, Texas saw him being thrown from a moving car. He is in care with Wayward Whiskers cat rescue. Thanks to Wayward Whiskers' dedication to him and to the generosity of the community, Magic Mike got the surgery he needed if he is to survive.
Magic Mike is a four-month-old tuxedo kitten who was found by a Good Samaritan a few weeks ago, after he was thrown from a speeding car.
He was alive, but suffered a major injury. He has a broken tail and a broken leg, which appear to be older injuries, as well as a diaphragmatic hernia. The diaphragmatic hernia allowed his intestines to move up into the chest cavity and push on his lungs.
Because of the internal in jury, Mike slowly became less active and developed labored breathing. His veterinarian said he could go into cardiac arrest unless he had surgery to correct the condition.
Sherry Pfau runs Wayward Whiskers Cat Rescue in San Antonio, and has been looking after Mike and working to save his life. She needed to raise $1,500 to cover the cost of the surgery, with a goal of $2,000 in order to cover unexpected additional costs. She reached out asking the community for help.
FOX 29 San Antonio news ran a feature on Magic Mike on Friday night . The broadcast may have helped raise the funds that made the surgery possible.
Forty-five people donated to help save Magic Mike's life, with $1948.11 raised as of Sunday.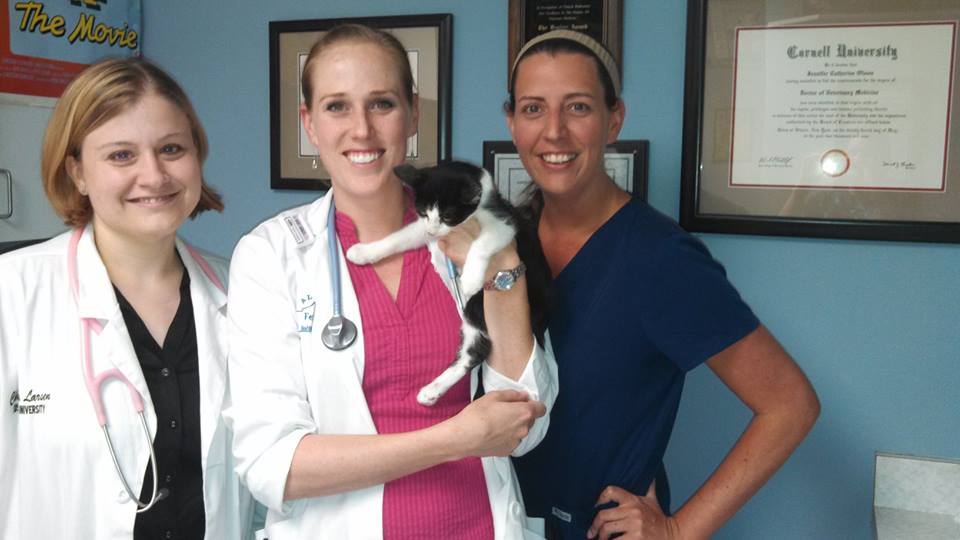 Sherry brought Mike to Alamo Feline Health Center to stay the weekend in preparation for his surgery. There is a doctor on duty all weekend at the Health Center.

Mike'€™s vet said in advance of the procedure that there is risk to the procedure, but offered hope that he can do well and make a full recovery.
Mike had his surgery at 10am today.  His vet, Dr. Olsen, said beforehand that the patient was doing well and the procedure would take between 40 and 90 minutes.
.
Wayward Whiskers reported some good news at Facebook earlier this afternoon, saying "The surgery went GREAT!!! The vet just called and said that the hole in his diaphragm was huge, but that they were able to move everything back to where it should be and close up the hole just fine! He is breathing on his own and even purring already!! He might even get to come home tomorrow!!"
Once Mike recovers he will be ready for a forever home.
Wayward Whiskers has shared Magic Mike's story as it has progressed, at the Wayward Whiskers Facebook page. Visit the page for more on Magic Mike and the effort to help him.
.
.
.
Watch the FOX 29 feature on Mike:
.

About Author