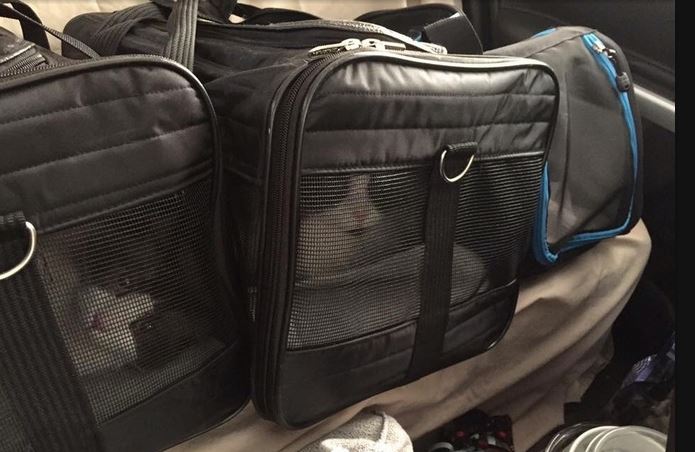 You're away from home when a raging fire engulfs your city while your three cats are trapped in your house  located in a mandatory evacuation zone. You make a desperate plea for help on a community Facebook page and a locksmith sees it and breaks into your house. He brings his fiance along, and the two of them manage to round up and catch all three cats and stow them in pet carriers. Then they take a picture and post it on Reddit. That's what happened in Fort McMurray, Canada recently. The cats are safe and are being taken care of by a relative of the absent owner. And the locksmith is getting a lot of praise for his heroics on Reddit.
"Broke into the owner's house to grab these three guys to get them out of mandatory evacuation zone in Ft. McMurry," the locksmith, identified by Love Meow as Chris Inger, wrote in his post. One of the cats hid in a couch, but Inger and his fiance were able to find her. "I figure if he [the cat's owner] has a nanny cam or anything, and his house makes it, he will get a kick out of seeing us running around trying to find this little kitty." Inger told Love Meow that he is uncertain whether his house or the house he broke into will be spared.
Some 88,000 people have been forced to evacuate the massive wildfire that has consumed 382 square miles in and around the Canadian city of Fort McMurray. So far no one has died in the blaze. The fire began Sunday in Canada's oil sands region.  Scott Long of the Alberta Emergency Management Agency called the blaze "an extreme fire event," but said it was under control, according to the BBC. Exhausted firefighters are hoping for rain to fight the mammoth blaze, which has so far spared the city's downtown but destroyed entire neighborhoods.