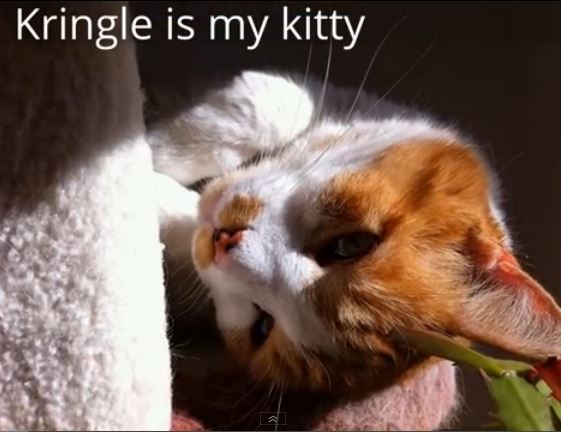 .
Kringle's story is the story of an abandoned cat who found a good and loving forever home, where he is appreciated and can live in comfort for the rest of his days.
Crazy About Cats Facebook page owner/admin and VOKRA (Vancouver Orphan Kitten Rescue Association) volunteer Irene, who prefers to be known by her first name only, took Kringle in as a foster after his family moved away and left him and another cat all alone and on their own until VOKRA learned of their plight and rescued the pair.  Irene adopted Kringle, and he now has a real forever home.
Irene says, "Kringle is my foster-turned-furever from VOKRA. This is his story. With cameo appearances from Jane's tuxie Avery, Rebecca's panther kitty Pjammies, and tabby Mietz."
Here is Kringle's Story:
.
.
.
.
More stories and videos at our site related to Irene, her rescues and her Crazy About Cats Facebook page:
Blue Gets Help and Begins a New Life
Four Feral Kittens Rescued from Car Engine Begin New Lives
Glass door is treadmill for kitty!