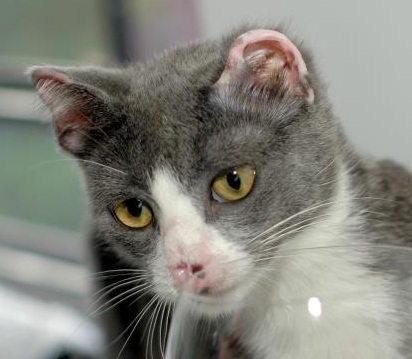 Readers may remember Jackie the Kitten from our earlier Jackie the Kitten stories. Jackie's remarkable journey took her from sick, disfigured stray on the NYC ACC Death Row, to healed and healthy girl with a forever home. It was Jackie's heartwrenchingly pathetic, yet appealing, ACC intake photo that helped her stand out from the steady stream of cats whose lives are in danger every day. She was young, dirty, skinny, sickly and disfigured by a scabby, malformed nose and a damaged ear, and she'd been found on the street. Despite all that, she was cute in her own way, looking like a little well-loved stuffed animal, and made you want to reach out and help her.  That is exactly what happened.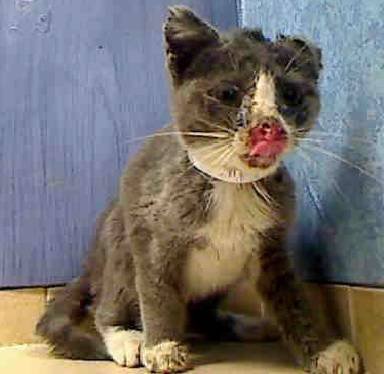 The iconic photo that started it all.
Rescuers from City Critters pulled Jackie from the ACC facility and got her the veterinary care she needed. A septicemia infection had damaged the tissue on her nose and ear and had affected her tail, deadening much of it. Medication, general care, and then surgery made a great difference and Jackie became a normal healthy cat. When a foster arrangement fell through before Jackie could go to the temporary home, she stayed at the vet's until she was ready for adoption.
Not the sharpest photo, but one that Knievel's petmom finds poignant. Knievel in the early days, while staying at the vet.
When it came time for the transformed kitten to find a family and go to her forever home, City Critters chose the perfect couple. Eric Werner was first in line with an application when the time came. He and his wife, jewelry designer Natalie Frigo, already had a connection to the kitten; they had stepped up with a donation to save Jackie from Death Row when her case first became known.
Jackie is now Knievel. Following on Knievel's popularity at her original Facebook page, Jackie the Kitten, she now has a new page, Knievel the Kitten, where she gives updates on her new life, accompanied by photos and videos. Of course, she's quickly becoming a grown up young cat; she's now over 6 months old.
Knievel lives with Eric and Natalie in their lower Manhattan home, alongside fellow cats Vito and Porkchop. She joined them at the beginning of August. Natalie tells us that Porkchop prefers to be left alone, but Knievel and Vito are great friends and companions. The photos and videos at Knievel's page confirm that.
Knievel and Vito
You can read Kneivel's charming August 7 note,  I Is Home Now , from her Jackie the Kitten page, which details her fist moments at her new home.
Birds!
We asked if Knievel made an easy transition to being a house cat with a family after her early life as a stray. Natalie tells us that after two months Knievel is settled in to her family's home life, and she is the purringest cat Natalie's ever known. Kneivel will even purr while just sitting by herself. Though happy and well adjusted, Knievel knows what she wants and is not afraid to show it. If, for example, she has chosen to do something, she does not want to be told to stop … she gives "the look" that we cat lovers are so familiar with. She retains a bit of her old  independence that way.
Still life with cat and green vegetables
Knievel is healed and healthy now and is not expected to have any lingering health problems as a result of her early ordeal. She breathes through one nostril, though; the second one is very tiny. Once she is older she may have surgery to correct this. Otherwise, she is a normal cat.
You can visit the Knievel the Kitten Facebook page on an ongoing basis to keep up with Knievel's photos, videos and updates.
Video from 8/26 showing Knievel giving her brother Vito a bath, which turns into a bit of a cuddle and playfight session.
.
Porkchop, Vito and Knievel
Thanks to the family for use of the photos and video, and for sharing their kitty's story.