A kitten being called Isis remains in the tree she was born in, with her Mama and siblings gone. People are feeding her and trying to get her down.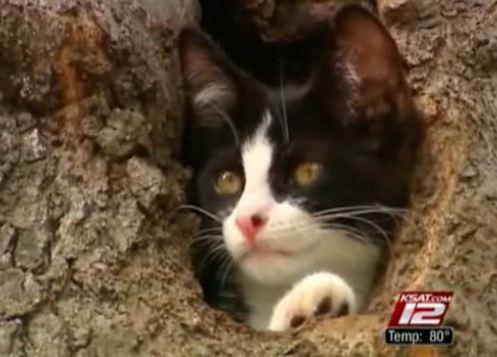 Isis has lived all of her short life burrowed into a hole in a tree in Travis Park, in San Antonio, TX. Nazrein Hassan told a news crew from KSAT, "I've been feeding her pretty much since she started coming out of the tree. Three of the kittens died from falling. Two were picked up and taken by somebody and she's the only one left right now." The kittens are thought to have been born at least six weeks ago.
Nazrein is one of a few people trying every day to get Isis down out of the tree and into a home. "I got it out of the tree one time, about two weeks ago, and I turned my back for a second and she ended up right back up the tree again," she said.
Edward Jordan says he has climbed up twice without being able to get her down, and has been scratched for his efforts by the kitte, who knows no other home. Victor Flores went up and reached into the hole while the news crew was on the scene, but could not get Isis. Animal control says they are unable to make such a rescue, but San Antonio Pets Alive says they will care for Isis until she finds a home once someone gets her safely down from the tree.
Victor Flores reaches into the hole after climbing up the tree.