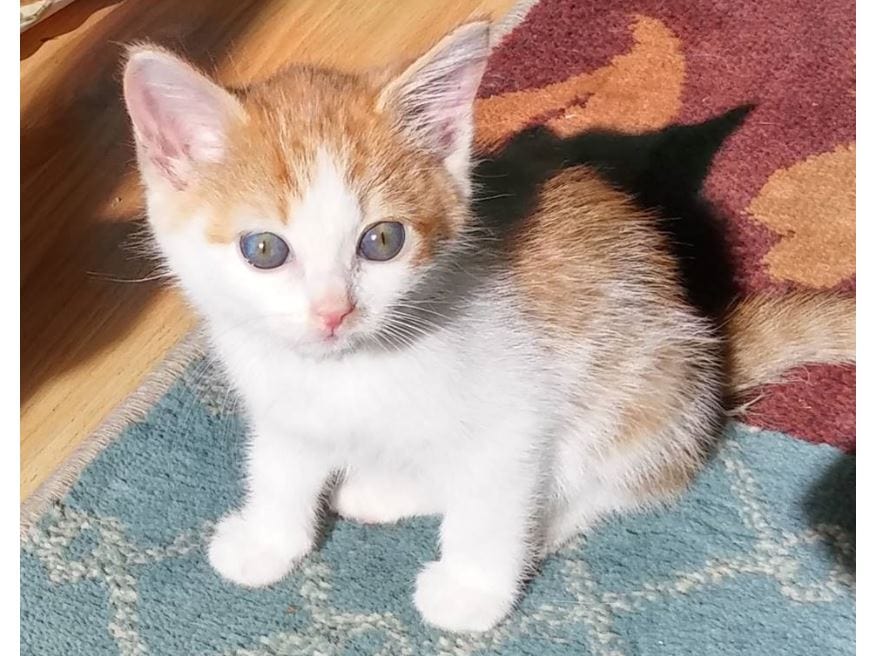 A kitten is safe in foster care now after being found in a box by a Washington state woman out walking her dog. In the box was a note apparently written by a child that suggested the child was getting the kitten out of a bad situation.
The note read: 'My mommy's boyfriend is mean to me. Desperet for loving home. 🙁 '
The woman discovered the kitten when her dog showed interest in the box. She took kitty to the vet and then brought her to Meow Cat Rescue in Kirkland.
Meow Cat Rescue wrote at Facebook with the story Thursday:
A woman was walking down the street with her dog and saw the box, no different than any other box. Her dog sniffed the box with interest and her intuition told her to check it out. When she lifted the flap, she found the note, written by a child pleading for someone to help a kitten who was being mistreated. When she looked inside, she found the little fluffy being. A tiny and perfect kitten, at the mercy of whomever found the box. She scooped up the box and headed home. She wanted to be sure the kitten was healthy so made an appointment with her vet. Thankfully, this kitten was in very good health….a little on the thin side, but that could be remedied. She brought the kitten to MEOW and asked if we could take her. We sure could!
The baby is now in a foster home with other kittens of similar age and doing very well. We are so happy to have her. We have more questions than answers, but are forever thankful for the bravery of the child who knew the kitten deserved better and the kindness of the woman who saved the kitten.
Meow Cat Rescue wanted to keep the story out of the press in case the note was legit, was written by a child and the child might possibly suffer consequences when it made the news. The story was picked up by several papers and news outlets anyway and is now out there.
If a child or even an adult removed the kitten from the home for her own safety, it was a noble and caring act. Kitty is now poised to go on to have a good life.