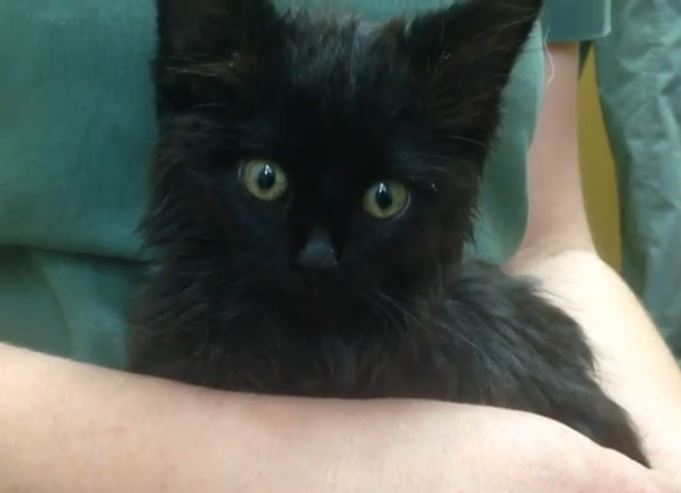 Note: You may want to pause the video below, which begins on auto-start, until you are ready to view it.
Thanks to the efforts of a rescuer and a clinic's veterinary staff, a kitten who appeared to be lifeless after being hit by a car is now healthy and ready to play again.
Manny is being called a miracle kitten by those who helped him to survive and recover from his accident. He is also lucky in some ways: lucky to be hit but not run over, lucky to be found by a rescuer from a cat group, lucky to have a caring veterinary team, and lucky the drug used to treat him was effective in his case. He is also lucky to be loved, and that he will be made available to go to a good home.
Colorado Kitty Coalition Director Davida DuPont stopped her car when she saw two little kittens lying in the road on County Road 38E in the Fort Collins, Colorado area on May 24. Both of the babies appeared to be dead and had been hit by a car.  Davida moved the body of the first kitten to the side of the road and went back for the other one, which she realized was breathing – barely breathing, but alive. She rushed the kitten to Blue Sky Animal Clinic in Loveland, Colorado, where the veterinary staff did everything in their power to save him.
"He was lucky enough to just hit the tire with his nose and not be run over," said Blue Sky veterinarian Stephanie Romm. "He was pretty much comatose."
The kitten was affected by the impact of the tire to his head, and his vets gave him a heavy dose of the drug Mannotil, which is used to relieve intracranial pressure. The drug worked on the kitten and ended up inspiring his name, Manny.
A week after Manny's injury and rescue, he is doing well and is headed for a full and happy life, his vet says. Manny has been at least partially blind since the accident but seems to be regaining his eyesight. Dr. Romm notes that he can lead a good life whether he regains his vision or not.
"He's been nursed along by our staff and my family," Dr. Romm said. "Last night he started to play like a kitten, so it's worth all the time and effort."
Both Dr. Romm and Ms. DuPont advise people to stop when they see an animal in the road, but say that those without expertise should call for help instead of picking the animal up themselves
"If you see something like that, stop," Davida said. "You just might save a life. That little guy might have died."
Manny will be available for adoption through Colorado Kitty Coalition.
You can visit and follow Colorado Kitty Coalition at Facebook. They could use some "likes"!
Watch Manny's story in this video report from The Coloradoan:
.
.
About Colorado Kitty Coalition, from their website:
"Colorado Kitty Coalition is based in Loveland, Colorado and serves Larimer and Weld counties. Our vision is to work with local agencies, retailers, veterinarians, caretakers and volunteers to curb overpopulation and needless suffering in cats.
"We are an organization where like-minded cat lovers can have the opportunity to give, knowing they have made a difference. We also work at the local level to change laws that will increase the protection of feral and community cats.
"CKC will also create a colony registration system that will assist all associated agencies in identifying and managing colonies, therefore curbing population growth and maintaining the health of the colony. This ensures the safe return of kitties that may end up in the Larimer Humane Society or other situations where euthanasia is a method of dealing with ferals."