.
A cute little kitten looked safe and comfy curled up in a firefighter's helmet after he was rescued from the scene of a devastating fire.
Firefighters rescued Charlie after a massive and devastating fire at a block of apartment flats in Devonport, Plymouth, UK earlier this month. They found him on the couch in his flat in the Clowance St. complex on June 3, the day of the late-afternoon fire, and reunited him with his petmom, Lisa Talbot, who lost everything – her home and all of her belongings –  in the fire.
We shared the story of another cat rescued from the building, with our post of  June 10, Tripod kitty Lily survives devastating fire and is found days later.
Dozens of people and their pets have been displaced by the fire. The damage to the building was so extensive it will be several months before the flats are habitable again. Many say they cannot bear to return to their former homes after they are repaired, due to the traumatic experience. Nearby apartment buildings were also damaged by the fire.
A 14 year old boy was arrested for arson and intent to endanger life following the fire.
See the two photos of Charlie below, as shared by Devon&Somerset Fire at Twitter.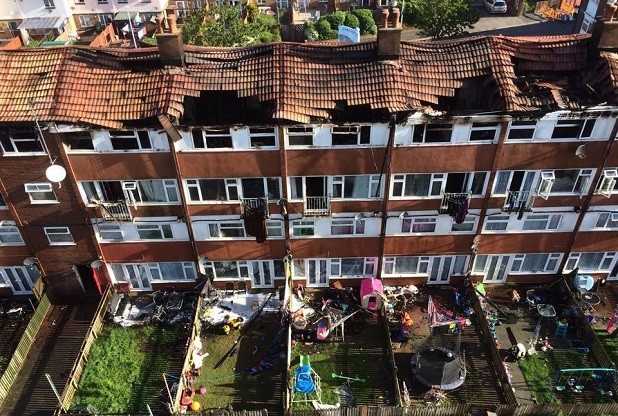 .
.
.
Lucky #kitten was found sat on a sofa in a flat the morning after a massive fire in #Plymouth https://t.co/Jn3WoJfk5U pic.twitter.com/JsqyZzzrK7

— Devon&Somerset Fire (@DSFireUpdates) June 4, 2015
. .
A very lucky #kitten found by fire crews following #flat fire in #Clowance Street #MountWise #Plymouth pic.twitter.com/tlaD0emvOu — Devon&Somerset Fire (@DSFireUpdates) June 4, 2015