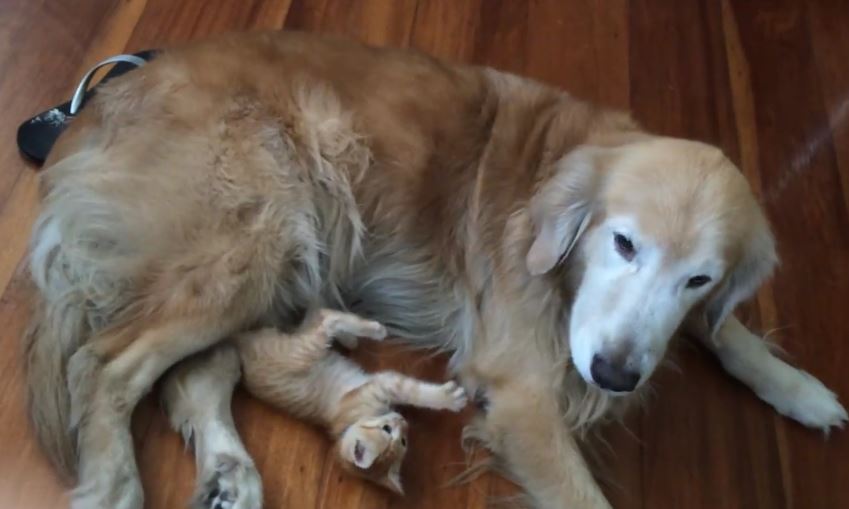 .
The petparent of a golden retriever named Keelo and a rescued kitten named Koda has set up YouTube and Instagram accounts chronicling the life and friendship of the par, who quickly bonded and became the best of loving friends after Koda was rescued and joined the dog's household.
The pair's person writes: "We found Koda abandoned a block away from our house when he was only a few weeks old. He quickly bonded with our golden retriever, Keelo, and we sometimes wonder if he thinks Keelo is his mom! We often caught him 'wool sucking' on Keelo's fur when he was tiny, and still catch him doing so today, albeit rarely."
Here are some of their sweet videos and a sampling of the Instagram pics.
You can see more at Keelo & Koda on Instagram.
Introducing New Kitten to the Dog:
Keelo (my 5 year old golden retriever) meeting Koda, an orphaned kitten that I found in some bushes near my house, for the first time. I was worried that Keelo would intimidate the kitten too much (given their large size difference), but was pleasantly surprised to find Koda curiously approaching him without fear!
.
.
Kitten Thinks Golden Retriever is Mom:
.
.
Kitten and Dog's Playtime:
Pet brothers Keelo (golden retriever) and Koda (rescued kitten) play fighting, playing, and being cute.
.
.
. .

.
.

.
.
.
.