Thousands of lives are being saved today as over 700 shelters across the US pledge to stop the killing for just one day. Many shelters are running special adoption events along with their participation in the widespread event.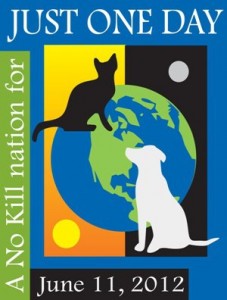 Animal advocates, nonprofit organizations and shelters, and municipal animal control facilities have joined together today for a moratorium on shelter killing across the US.
Over 700 shelters and pounds have pledged to spare the lives of the innocents today, granting a reprieve or securing adoption for cats and dogs whose only crimes are not having homes, getting lost, or being trapped by someone who didn't like to see them wandering around.
The Just One Day Facebook page helped to organize the event and, now that the day is upon us, is the clearinghouse for links to press releases, news stories and adoption happy tails from participating organizations and facilities.
Looking forward to today's special coat to coast event dedicated to raising awareness and saving lives, No Kill Advocacy Center and Animal Ark issued the following release:
Monday, June 11, promises to be the safest day for dogs and cats in U.S. shelters in history, thanks to a nationwide campaign spearheaded by the No Kill Advocacy Center and Animal Ark No Kill shelter. Roughly 700 shelters and rescue groups, including some of the largest animal control shelters, across the country, are joining together to create a No Kill nation for Just One Day.

Every day, roughly 10,000 animals lose their lives in U.S. shelters. By coming together, the Just One Day campaign is trying to reduce that to zero. Shelters normally closed on Monday, such as the Houston shelter, are staying open to do adoptions. And others, like Kern County California Animal Control, are staying open for extended hours.

On June 11, "euthanasia" technicians all over the USA will put down their syringes. Instead, they will pick up cameras, cell phones and video cameras. Rather than injecting savable animals with fatal doses of sodium pentobarbital, they will take pictures and videos of them. They will post them on the Internet, on Facebook and Twitter. Instead of going out the back of the shelter in body bags, animals will go home into the loving arms of new families.

More than 40 municipalities in the USA have already stopped killing healthy or treatable animals community-wide. The Just One Day campaign leverages the programs and services already proven in these No Kill communities, and asks others to try them, even if for only Just One Day.

"We are creating a no-lose proposition for shelters, rescue groups and municipalities," said Mike Fry, Executive Director of Animal Ark in Minnesota and one of the coordinators of the campaign. "What could a shelter possibly have to lose by trying these programs for a day?"

Nathan Winograd from the California-based No Kill Advocacy Center, another of the campaign organizers, said, "The response to the campaign has been very positive. The number of shelters that have already taken the pledge is inspiring." Winograd added, "And if the shelters are emptier than when they started the day on June 11, then it should be easier to make June 12 Just One More Day."  
Why June 11?
Nathan Winograd tells why Just One Day is held on June 11, in a blog post from his website.
Just Another Day? Hardly.
I woke up this morning to a typical Saturday, and went through my normal routine. I went outside so the dog can do his business and to grab the newspaper. I greeted all the cats with an Andy Griffith-like "Howdy Do" and gave each one a pat on the head. I gave everyone their breakfast. And made mine: a tall soy latte. I did the dishes from the night before. I cleaned the litterboxes. And then, while my wife and kids slept, I sat down to my computer. That's when I got online and found this little ditty on the No Kill Revolution facebook page:
NKR Pop Quiz: Ten years ago today, a very important event in No Kill history occurred. What was it?
I looked down at the little corner of my computer screen and saw the date: June 11, 2011. What happened ten years ago on June 11, 2001? That "11th" didn't happen for another three months. June, June, where was I June 11, 2001? And sure enough, though slow as molasses as the coffee had not kicked in yet, it occurred to me.
Ten years ago today, at about the exact time I was reading the question, I started my job as the Executive Director of the Tompkins County SPCA. Here's how I told it in Redemption:
As I drove into the parking lot for the first time as the agency's new chief, I was met at the front door by a truck driver with five kittens he didn't want. Spaying his cat was not a priority. To him, the kittens were no longer "his problem." Whether they lived, died, or anything in between was not his business. By handing them over to us, in his estimation he had done his duty. He had brought them to the Tompkins County SPCA, the animal control authority for the entire county, and they were now our responsibility.

 

For most shelters, this is the point at which the breakdown that leads to killing occurs. The current view is that killing the kittens is, in large part, a fait accompli, and that the fault for the killing belonged to the truck driver at the front door. It was his failure to spay his cat, his failure to make a lifetime commitment to the kittens. But this view, while endemic to the culture of animal control, is not accurate.

 

First, it is because of this irresponsibility that shelters exist in the first place. Second, it is often the practices of the shelter itself that lead to killing. If a shelter does not maintain adequate adoption hours or has poor customer service, refuses to work with volunteers, foster parents, or rescue groups, fails to treat and rehabilitate sick, injured, or traumatized animals, or does not offer TNR as an option, the shelter is not doing much to prevent killing… These problems plague shelters nationwide, and the Tompkins County SPCA was no exception.

 

Thankfully, on June 11, 2001, the truck driver did not live in a community whose shelter still subscribed to those views. On that day, the Tompkins County SPCA explicitly rejected the policies legitimized and championed by most shelters nationwide. Having been director of operations for the most successful SPCA in the country, I knew what worked and what didn't work. Clearly, killing those kittens was not going to be an option. Not surprisingly, we found all of them homes…

 

Like so many shelters with animal control contracts, the Tompkins County SPCA had relied on the fiction that the only solution to the influx of homeless animals was killing. Staff would shake their heads and continue to blame "irresponsible owners" for the fact that so many animals would go out the door in body bags rather than in the loving arms of families. Like so many other shelters, the team that made up the Tompkins County SPCA upon my arrival never once saw the killing as its own failure to find solutions, meet its real mandate to be an animal welfare organization, or live up to the very real but often ignored shelter credo that "every life is precious."
On the wall, above my desk, is a single clock, set to the time in Ithaca, New York. Ground zero in the fight for a No Kill nation. On June 10, 2001, there was not a single No Kill community in the U.S. On June 11, Tompkins County became the first. And it started with a truck driver and a box of kittens in a pot hole-filled parking lot in Ithaca, New York. Today, there are No Kill communities in California, as well as New York, in Nevada and Kentucky, in Michigan and Virginia, and elsewhere.
For the entire blog post, click HERE.
__
To see the full list of shelters and committed to just One Day, click HERE.
.
Excerpt from Nathan J. Winograd reprinted with permission.