Jackie was a kitten in need of help and TLC when City Critters rescued her from the Brooklyn ACC in June . Her compelling ACC intake photo tugged heartstrings and spurred a campaign to get her the help and support she deserved. Now she's ready for her forever home.
Jackie the Kitten is yet another little creature to have overcome great adversity with the help of people who cared. She was pulled from the Brooklyn NY Animal Care and Control a little over a month ago by City Critters, a Manhattan based organization that does animal rescue work, along with adoptions and TNR. They rescue cats, kittens and, occasionally, dogs.
Jackie's photo at top and the one directly below show the  beautiful, loved and remarkably healed kitten she is today.
Below is Jackie's intake photo from the ACC. As you can see, there is an injury to her nose and the surrounding area of the face, and a problem with her little ear (a dead, crumpled ear pinna). Part of her tail was deadened, also. This pathetically sad picture of a sweet little creature touched everyone who saw it and served to rally support for Jackie. We believe she was brought to ACC from a life on the streets.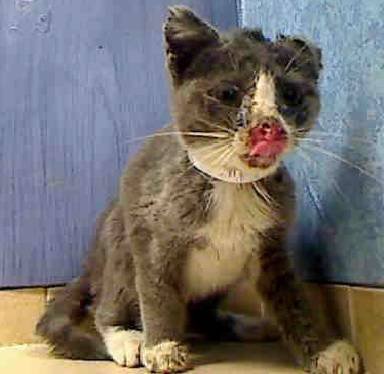 Here she is at the vet on June 23, looking like an adorable girl despite her problems, and is is still wearing her ACC collar. She was approximately two months old at the time and weighed just over 1 1/2 pounds. Not surprisingly, she charmed everyone at the vet's.
Jackie received the best of care, had her problem areas treated and, when she was strong enough, had a section of her tail amputated. According to her vet, Dr Cotter, Jackie had septicemia blood poisoning. Her tail and left ear were necrotic and would eventually fall off.  Dr Cotter kindly offered to keep Jackie during the wait for the tissue to slough off, and then to surgically close the affected areas. It was decided to wait a bit before surgical procedures, to give Jackie time to build her strength.
Jackie has her own Facebook page Jackie the Kitten , where her caregivers have been able to update the public on her progress.  It was recently decided that Jackie is ready for adoption to her forever home, but it has not yet been accounced whether someone has been chosen to take her.
We'll post an update when we hear anything concrete on an adoption. In the meanwhile, we're happy for Jackie and grateful to City Critters and everyone else who helped.
Here's a video from way back when … just five weeks ago.