A kitten living all alone in a hole in a tree in San Antonio, TX for three months has finally been rescued, is in foster care, and is available for adoption.
We wrote about Isis and the efforts of locals to help her earlier this month,  in Kitten Lives in the Tree where She Was Born.  Three month old Isis lived most of her short life burrowed into a large hole in a tree in Travis Park, in San Antonio, TX until efforts to bring her down finally paid off.
After her mother and siblings left, Isis remained, all alone and unwilling to come down. People who live and work nearby fed the kitten and tried to rescue her from the tree.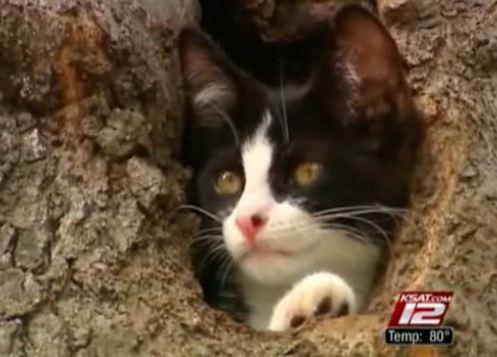 Nazario Hernandez was one of the people most concerned about the little kitten in the tree; he would spend hours each day trying to earn her trust. In a slight departure from previous reports that the kittens were born in the tree, he says the Mama cat carried Isis and her siblings up the tree and then made a nest for them there.
Nazario climbed a ladder left at the tree and succeeded in getting a hold of Isis to bring her down but lost his footing, causing  him to fall and break his leg as Isis fell to the ground and ran off into the bushes.
Experienced rescuer Amy Venticinque, who had previously trapped and rescued Isis' Mama and brother, came with traps to complete Isis' rescue. Isis was wary of the traps and avoided capture for several days.
According to Amy, "She was crying in the bushes. She was very scared.  As the days passed with Isis refusing to go into the traps, "She would not fall for Church's Chicken, tuna, sardines," Amy told a KSAT video new crew, "I don't know what would have got this cat in a trap. She's smart. I was feeling like Wily Coyote with the Roadrunner."
Last Wednesday, a man who was one of the park regulars on the lookout for Isis managed to reach into the bushes and grab the kitten, then handed her over to Amy. Amy is now fostering Isis until she finds her forever home.
Isis has been spayed and vaccinated and is available for adoption through  SNIPSA, which says of her at their website, "She is very playful but also very cuddly. She loves to curl up in your lap and nap, feeling safe and protected. She is approximately 3 months old. She'll need a cat savvy adopter because she is a bit timid at first, but she has adapted extremely quickly to life inside. Serious potential adopters can contact Amy Venticinque at [email protected].