A woman picking up her mail rescued a tiny kitten trapped in a bag full of trash and rushed him to her local shelter to get help.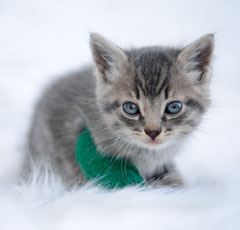 The Shuswap Branch of the British Columbia Society for the Prevention of Cruelty to Animals is caring for a tiny kitten who was callously thrown out in the trash on May 23. "Pip" (short for pipsqueak) is recovering after being found tied inside a full plastic trash bag at the side of the road in Salmon Arm, BC.
"Why anyone would do something so cruel to a tiny kitten is unfathomable," says Lorie Chortyk, general manager of the BC SPCA. The five-week-old grey tabby kitten was left to die inside the trash bag next to a set of mailboxes on Black Road in Salmon Arm. A woman picking up her mail heard the kitten's frantic cries and rushed him to the Shuswap SPCA shelter.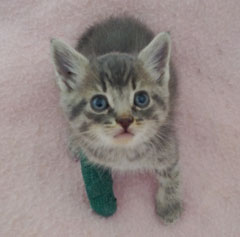 "Pip required immediate medical care for an injured front paw and was given oxygen to help him breathe," says Chortyk. "X-rays revealed that the kitten already had an old injury on his right front leg." Staff at the Shuswap SPCA are bottle feeding Pip until he is able to eat on his own but say that, despite being exhausted by his ordeal, Pip has an exuberant personality and is enjoying all the attention he is now receiving.
Anyone with information about who may have dumped the kitten in the trash is asked to call the Shuswap SPCA Branch at 250-832-7376.  The branch is also grateful for donations towards Pip's medical care and for other injured, homeless animals.
.
The trash bag where Pip was found