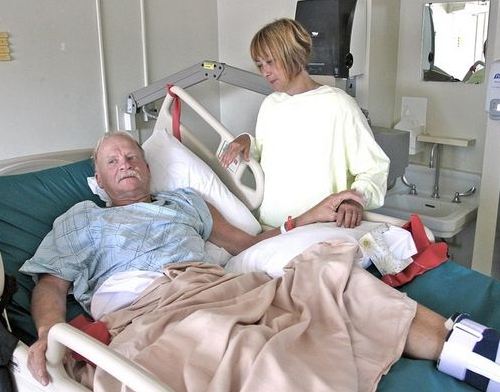 Niagara Falls, ON Canada resident John Shugg remains in the hospital 10 days after the incident that put him there on August 16.  John was out in his backyard when his granddaughters told him a man was hurting a cat, slamming it to the ground on Collins Drive. The 57 year old confronted the cat's attacker, 18 year old Brandon Tobin of Toronto who was in the neighborhood going door to door as a salesman for National Home Service.  Tobin turned his attention to Mr. Shugg and threw him the ground. Mr. Shugg's domestic partner Trish Dean then had to intervene to disrupt the assault, from which Mr. Shugg suffered  broken ribs, a fractured pelvis,and a leg injury that has him in a cast. He is likely to be out of work for months.
After a story in the Niagara Falls Review on Friday, Mr. Shugg was celebrated by many for his selflessness in coming to the cat's aid.  According to a story in the Welland Tribune, neighbors have offered to help around the house and there are plans to collect donations at his workplace and in the community.
Ms. Dean was able to grab Tobin's lanyard ID from his employer and onlookers helped to detain him. He was arrested for his assaults on both Mr. Shugg and the cat.
Neither story on Mr. Shugg gives a followup on the status of the cat.