………………………………………………………………………………………………………………………………………………………………………………………………………………………………………………………………………………………….
Many have heard and followed the story of Kunkush the cat, nicknamed Dias,  and his rescue on the Greek island of Lesvos.   Through a myriad of coordinated efforts, he was reunited with his family, who had fled from Iraq, in Norway, earlier this year.  It was an amazing testament to all the people involved, but in particular, three women who were compelled to help see this kitty, who had already made a substantial journey, back with his family through their collective work as Reunite Dias.
In speaking with Amy Shrodes, Ashley Anderson, and Michelle Nhin, the women shared some insight into the complicated, but very successful endeavor.  Of note, Amy and Ashley were working with refugees on the island and intimately involved in housing and transporting Kunkush.  Michelle was located in Oklahoma coordinated all the social media  components.
………………………………………………………………………………………………………………………………………………………………………………………………………………………………………………………………………………………….
LifeWithCats:                          At what point were you alerted to Kunkush's plight?
Amy Shrodes:                          I was staying in the village close-by where Kunkush was separated from him family. I saw him wreaking havoc around the cafes and getting attacked by other cats. It was obvious he wasn't from around the area because of how different he looked. I soon found two volunteers who were eye-witnesses to his escape from the carrier on the boat.
Ashley Anderson:                  I met Amy while we were both on Lesvos island volunteering. One day while we were at a nearby cafe, she mentioned that the white cat that was hanging around had come from one of the refugee boats a week prior. We asked a few other volunteers about that day and pieced together his story.
Michelle Nhin:                        Amy and I were chatting on Facebook when she was in Lesvos and I wanted to help in any way I could. We met through a local nonprofit in Oklahoma City and she knew my social media and fundraising background so she asked me to help with that!
LWC:                          What were your immediate thoughts? 
Amy:                           That a reunion effort was the approach to take and that even though it was a long-shot, it was possible. We would all want the chance to be reunited with our pets if we lost them while traveling, what made these people any different? I also knew from past animal welfare experience that people that might otherwise never look twice into the refugee crisis would notice when a story about a missing cat got out. I couldn't do it alone though, and after weeks of trying to find another volunteer onboard with the idea, I finally connected with Ashley who also believed this was the right thing to do. We then engaged Michelle and the ball started rolling quickly.
Ashley:                        I thought that given his poor condition at that time, why couldn't we intervene in his case too? We help people day in and day out…we knew a bit of his story, so what made him so different? He really clearly needed an advocate. I bought him some tuna and I put him in my car to feed him because all of the other cats around were very aggressive with him.  He was really starving.
Michelle:                    Yes! I was so excited and ready to get the project going.
………………………………………………………………………………………………………………………………………………………………………………………………………………………………………………………………………………………….
LWC:                          How did the plan begin to take shape?
Ashley:                        If I remember correctly, Amy and I talked a bit about the plan when we were together that day. I remember us talking about at least by finding him a home with someone on the island would help him out, but that the goal really should be to find his real family wherever they were. I did not think it was impossible at all – we kept seeing miracles happen all the time so this could also be possible too! 🙂 We knew the routes that refugees were taking, we knew how long it generally takes, we knew when they came so we just tried to connect the dots the best we could.
Amy:                           I reached out to locals to find a veterinarian that we could take him to, as that was the first step. He was vaccinated, microchipped and shaved there. Then bathed at my rented apartment. We were blessed that the landlord allowed him to be an indoor cat for the duration of his stay, a rare living situation for a cat on the island.
Michelle:                   It was a lot of planning before our launch date. Amy and I made sure to ask options of other media relation specialists in Oklahoma City to see what they thought. Everyone seemed hesitant but we decided to believe and just went for it! I did a lot of research on reunion stories concerning animals and made sure we targeted the right audiences on Facebook.
https://youtu.be/p1LTJezZQRg
LWC:                          I know there were other people that started to come on board, who are they and how did they become part of the picture?
Amy:                           In addition to Ashley, several other volunteers in the village had began helping him. One in particular decided to take it upon himself to find a way to save him from the island cats and took him to a vet to have him re-homed. I worked to track him down with that vet and Ashley and I went there to meet him and get him medically ready to travel.
Ashley:                        Doug Kuntz (who is a photojournalist) lived next door to Amy. He got familiar with Dias (Kunkush) as he was nearby and I believed watched him a few times while Dias remained at Amy's apartment for that month while Amy was out. He was the one who flew Kunkush to Norway since he was in Berlin at that time. Michelle Nhin came on board remotely to help us spread the word on social media since Amy nor I had the time/energy to do so those days as we were on the island. She was located in Oklahoma and is a friend of Amy. We also recruited a family online to foster care for Dias in Berlin. My friends in Germany had to pull out of fostering him at the last minute because they were worried they were going to get too attached to him.  So we decided on another foster home with a woman by the name of Emma. It was just perfect match.
Michelle:                   Look to Ashley's comment! I do want to mention the Syrian Pet Recovery Group on Facebook.  They helped a lot with getting Kunkush's story out.
………………………………………………………………………………………………………………………………………………………………………………………………………………………………………………………………………………………….
LWC:                          When did Kunkush go to Germany? How was coordinating his travel and were there issues trying to get all of his vaccinations and documents together?
Michelle:                   Kunkush went to Berlin during the first week of January! Ashley and Amy can share more.
Ashley:                       When Amy and I took Kunkush to the vet's office, we had to register our names in his passport and organize his documentation and vaccines. Through donations, I paid for his first visit and part of his neuter surgery. Amy then traveled with him to Germany to live with the foster family.
Amy:                           He was vaccinated, dewormed and microchipped. Several weeks later I took him back for his neuter surgery. A passport was issued at the time of his surgery. Everything was easy as far as preparation goes. Working with the airlines was another story. He was put on standby out of Athens. SwissAir tried to charge me $1,300 to upgrade to first-class. I declined and the two of us had to stay overnight in the Athens airport waiting for a flight on a different airline the next day.
LWC:                          Did you have any low points through all this?  Periods of time when nothing happened or periods when it felt like you hit a brick wall?
Amy:                           He (Kunkush) had several medical issues while staying with me for more than a month on the island. One of them had to do with an intestinal issue that caused him to poop uncontrollably all over my apartment. I was volunteering long hours and it was distressing for both him and me. We also hit travel roadblocks the whole way through. It required a lot of perseverance and tenacity to move him from one country to the next. Lots of time was spent working with airline staff.
Ashley:                       There were some low times of course, when you think that this family would not surface. Also knowing what has happened to so many families and wondering if anything happened to them.  Were they safe?  What have they already experienced? Thinking about how they must feel after losing their family member cat after such a long and dangerous journey.  Things like that keeps you awake at night.  All of these thoughts/feelings while dealing with everything else that was occurring on the island and the daily traumas of life there.  It wasn't easy but we still had hope and we knew it was possible if we just tried to spread the word.  Invest a little time and not give up!
Michelle:                   A few yes. Since I was running the social media sites, I hit a ton of writing walls. Amy was in a different time zone so communicating was always fun and a challenge! It was all worth it though!
………………………………………………………………………………………………………………………………………………………………………………………………………………………………………………………………………………………….
LWC:                          At what point did you realize you had done it?  You had found Kunkush's family?
Ashley:                       After reaching out to some of my professional networks in media, The Guardian (UK) picked up our story and that video was what we needed to get the world to help us look for this family. It has since been viewed by over 18 million people! The family came forward the day after that video was released. I heard about it days later as I was on a hike in Peru without technology. When I saw my email and all the messages I received about it, I was overwhelmed to say the least.
Michelle:                   Oh man! So after the family saw the article on DailyMail (UK), they had their neighbor reach out to the Facebook group. Ashley just left for a 10 day hike with no technology and Amy just came back to Texas. I texted Amy to call me right away. I then Skyped with the neighbor and the daughter of the family. We asked them to send photos and a timeline for verification. I asked for Dias' real name and she said 'Kunkush' I had the foster mother call the name and the cat perked right up and ran to her. That was the moment for me – the name recognition! Then Amy and I went into coordinating mode. (We) talked to The Guardian about the great news and arranged media for the reunion!
Amy:                           The minute that Doug walked in the door with Kunkush's carrier. Michelle and I were watching on Skype. The son was kind enough to walk the laptop over to where the reunion was taking place so we were able to be a part of it. The mom is the one holding him. Her name is Sura.
LWC:                          What did it feel like to see the reunion?
Michelle:                   Amy and I were Skyping with the family when the reunion took place. We coordinated it for a week and Doug delivered Kunkush from Berlin to the family in Norway. The Guardian did a wonderful job on the reunion video, it always tears me up and it's crazy how many views it has! Over 18 million views.
Amy:                           The only way that comes to mind to describe it was an incredible wave of love and relief. It was like knowing that what we did mattered to this family and many other people in the world, and that made all the challenges worth it.
Ashley:                       The video is SO incredibly touching. It showed me that this small effort made such a difference to people who we didn't even know. Not only are we happier and Kunkush is happier but this family is now back together and these children do not have to ever wonder what happened to their little friend or have guilt that they lost him nor have any additional scars from their already dangerous journey.
………………………………………………………………………………………………………………………………………………………………………………………………………………………………………………………………………………………….
LWC:                          Have you thought about what happens next?  Do you have a game plan?
Ashley:                       We will continue to promote the message that we all hold the power to evoke change in the world and that no action is insignificant when it aims to help other beings. At the moment we collectively do not have a "plan" per se other than spreading Kunkush's story, but are open to ideas! Personally, my game plan is to get Foreign Feathers off the ground so that I can help fund other projects that I know are going on, not only with this crisis but on other various issues. I hope to put funding into grassroots sustainable and worthwhile projects because I have seen what those truly can do!
Michelle:                   Honestly, we don't have a true game plan. We want to continue to use the Facebook page to spread the message of love, do good, and that we are all capable of incredible amazing things. For me, I am working on transitioning my career into the environmental protection or humanitarian work.
Amy:                           The children's picture book (about Kunkush's adventures) will be out in January, 2017. Any royalties I personally earn from that will go to start-up a business that will grow communities and help more beings around the world. My goal is within the next 2 years. In the meantime, I will focus on the project I'm currently contracted for (increasing the market-share of adoptable horses in the United States therefore ending the slaughter of American horses in Mexico and Canada) and my own project of self-expression about the refugee and mass migration plight: "Unified Threads."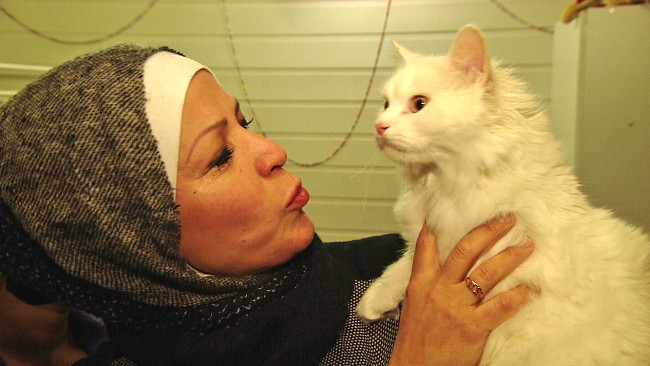 ………………………………………………………………………………………………………………………………………………………………………………………………………………………………………………………………………………………….
The Facebook page continues to stay open and has gone far in being a tremendous resource to connect people coming forward in need of assistance.  While the women don't really know how many they have helped since their original postings, they all agree they are pleased to be doing something good and positive in the world.  The response to what they were able to accomplish has been resoundingly supportive and a tangible example of how four, three, two, even one person can make sure a difference.
The video below is a documentary produced by FUJI TV heir TV show "Amazing Stories."  It is narrated in Japanese, but it a beautiful illustration of the story from start to finish.