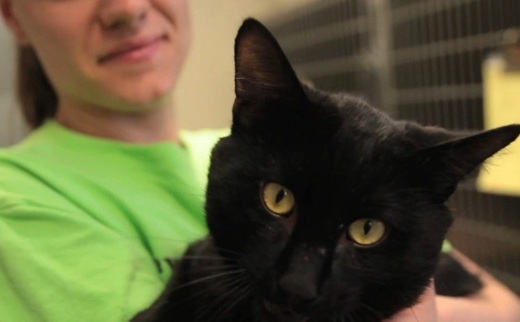 This handsome and friendly black kitty is spending some time at the Lawrence KS Humane Society while recovering from being trapped and wounded, and he will soon be looking for a home. We dare any cat lover, especially those with a weakness for black cats,  not to fall in love after watching him in the arms of the HS director.
We discovered this story earlier today and decided not to share it at Life with Cats; that is, until we watched the video and became smitten with the incredibly handsome and cuddly black house panther at the center of it. While all cats' lives are equally worthy, some of them just call out to us and stick in our minds.
This two year old cat is one of far too many who are discovered after being shot or injured in one way or another. In this case it was two bullets from a .22. He has recovered well and is ready to move on to a good life in a loving home and, from all appearances, anyone would be lucky to have him.
Kitty, who is currently being called Bullet, though we hope that will change, was found about a week and a half ago by police, sitting in a trap next to an abandoned house, with two bullet wounds. He was rushed to a vetrinary hospital, examined and treated, and is currently staying at the Lawrence Kansas Humane Society.  He appears to be well recovered and looks unfazed as he snuggles with shelter DirectorKayse Aschenbrenner in the video below.
If any readers near Lawrence Kansas either have room for one more special cat, or know of someone who does, they can contact the Humane Society. The adoption fee is a nominal $9 for all cats during the month of June, unless the adopter opts for microchipping.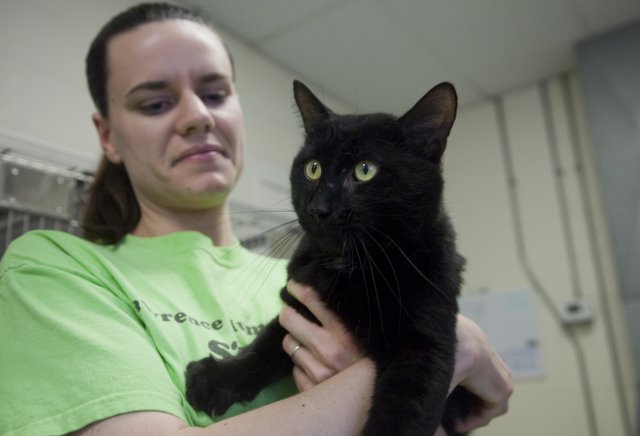 Another view of Mr. Handsome, shown with Kayse Aschenbrenner
Here's the text of an article telling the story of how Bullet came to the HS,  from the Lawrence Journal.
"The cat's name is now Bullet. (LWC: We trust THAT will change).
And staff members at the Lawrence Humane Society hope he has a new home soon after the 2-year-old cat was rescued by animal control officers from a trap in northern Lawrence. He had been shot twice.
"He is such a survivor. He's an amazing cat," said Kayse Aschenbrenner, the Humane Society's director of animal welfare. "You would never guess he went through such a traumatic ordeal."
Jimmy R. Wilkins, 73, faces a case in Lawrence Municipal Court on charges of animal cruelty and discharging a firearm in the city limits, City Prosecutor Jerry Little said.
Sgt. Matt Sarna, a Lawrence police spokesman, said police assisted animal control officers May 29 in the 100 block of Michigan Street when officers found the injured cat inside a trap on the side of a residence. A witness had alleged he heard a neighbor shoot what sounded like a gun earlier in the day and observed the cat in the trap.
The cat, who is black with little spots of white and believed to be a stray, was taken to the Humane Society and later taken to a veterinary clinic.
Police eventually wrote Wilkins a citation, Little said, and he has a hearing scheduled for June 28.
Aschenbrenner said the veterinarian was able to remove one bullet from the cat, and staff members hoped Bullet could be adopted in the next month if someone shows interest.
Aschenbrenner thought Bullet had at one time served as someone's pet but had been on the streets for awhile, although she said he has shown good social tendencies during his time in the shelter."
__________
We sincerely wish Bullet well and hope he finds a wonderful home. He is just one cat out of thousands needing homes, but one who touched us today. Any cat or dog lover will probably agree that sometimes a certain furry someone speaks to us in a special way. That is how we feel today.
Location
1805 E. 19th Street
Lawrence, KS 66046
Mailing Address
P.O. Box 651
Lawrence, KS 66044

Phone 785-843-6835
Fax: 785-843-6554

Hours
Monday: Closed

Tues – Fri:
11:30am-6:00pm

Saturday:
11:30am-5:00pm

Sunday:
12:00-4:00pm