Vincent D. Cat, spokescat for Rikki's Refuge animal sanctuary and ambassador for the specially abled, passed away early Monday on his 14th birthday. Friends and supporters the world over are mourning the sweet little cat with the funny sideways sliding gait.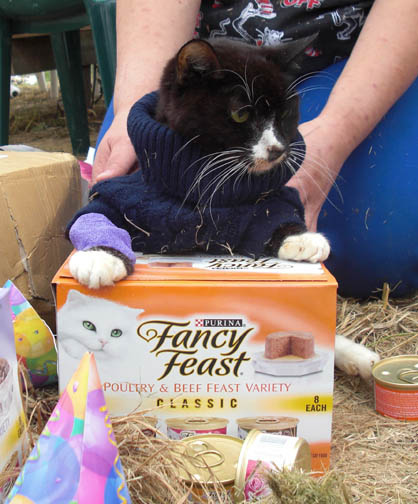 Vincent loved Fancy Feast
Vincent Cat was well known in Virginia, where he made many public appearances, and on Facebook and across the world as the sweet and optimistic furry little face of Orange, VA no-kill animal sanctuary Rikki's Refuge. Vincent helped put the sanctuary on the map, helped with fundraising and made it the destination of pilgrimages by supporters who wanted to meet Vincent, director Kerry Hilliard, and staff members, and to tour the well run facility that houses a wide ranging menagerie.
Vincent also made visits to schools and other venues to help people understand and accept the differently abled, and to provide inspiration and support for those with disabilities.
Vincent came to Kerry and Rikki's 12 years ago after being hit by a car and losing his mother and siblings. The accident cost him a hind leg and left him vulnerable to certain health issues, but little Vincent was ever sweet and friendly and did not let his disability keep him down. Kerry has remarked that Vincent was perfect for his role, not only because of his sweet disposition and special needs status but because he was a good little traveler and eternally patient and giving. Vincent would be as sweet and receptive to the last child to meet him at a long tiring event as the first.
Vincent the internet cat was equally as sweet, optimistic and comforting as the real cat. Known to thousands through the Rikki's Refuge newsletter and blog, the Vincent D. Cat Facebook page, and a Facebook profile, he made friends by the thousands and made everyone feel that he was their special friend. Vincent the internet cat did not just rally support for Rikki's and his causes, he gave support and encouragement to everyone in their own projects and causes. The sanctuary also maintains a Rikki's Refuge Facebook page.
We did a feature on Vincent last June, with Vincent Cat in the Spotlight, after Vincent came in second in the very competitive Bissell Most Valuable Pet Contest. Vincent's win was a testament to his many friends, his participation in a group effort which entered a specially-abled or or therapy pet in each of the 12 weeks of the first round, his cute face, and his great work. He won $5k for Rikki's and his cute face will appear on Bissell product packaging later this year.
Vincent struggled with health issues in recent months, yet Rikki's spared no expense for his care. He seemed to take a turn for the better and came home from a stay in the hospital last weekend in time for a birthday celebration. He ate well and greeted his visitors, but spent much of the weekend resting. Vincent was cuddled up in bed with Kerry and her husband Sunday night when, shortly after midnight, he peacefully slipped away.
Kerry Hilliard posted this message to Vincent's friends and supporters today: "Morning everybody. Thank you all so much. I know how much you love Vincent. He kept beating the odds over and over again and I though he would for a long time to come. Wednesday and Thursday he'd started actually walking on all three again. Not just scooting, as he so often did. But up and walking to chase after Opie and Timmy and play. He hadn't done that since he'd had that spell back in Feb. He was feeling so good and be getting so strong. So when he felt bad Friday I was sure we'd fix him up again in a day or two. I keep bending over to pick him up every time I'm headed out to the truck. He just about always went with me. Sure miss watching him look out the window and talk to passer-bys. He especially loved to see dogs getting walked and meowed greetings at all of them. Working on thinking about him with a smile instead of tears, but it's still hard. "
A Facebook group Memorial Stories of Vincent Cat, with over a thousand members, has served as both a place to post memories and tributes to Vincent, as well as a virtual celebration of his life.
Vincent's friends are honoring him by voting for Rikki's Refuge in the Shelter Challenge, by donating to Rikki's, and by working to help the sanctuary with a proposal to utilize some trailers for offices.
Run free, sweet boy.
Vincent Comes When called, April, 2010.

Images in this post are from Vincent's 14th birthday party, held at Rikki's Refuge last weekend.