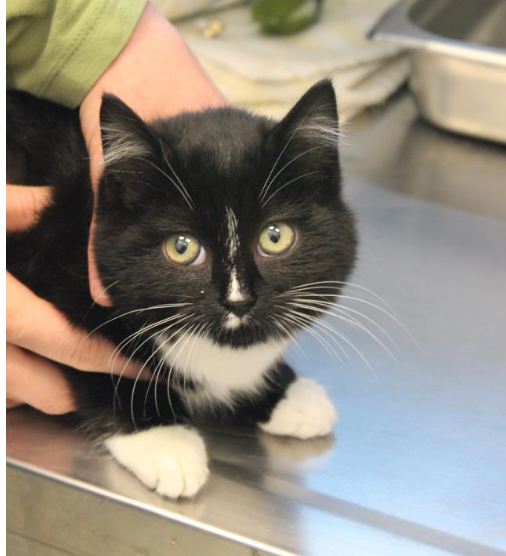 A kitten trapped in netting on a playing field is on the mend and looking for a home. Vets were initially concerned she might lose a leg, but were relieved to find it would heal. Kitty has been traumatized, so is looking for a home where she can recover emotionally from her ordeal.
BOSTON, Dec. 6, 2012 – A scared three-month-old kitten is resting at the MSPCA-Angell's Animal Care and Adoption Center in Jamaica Plain, Mass. after she spent an unknown amount of time ensnared in a heavy mesh net set up on the Highland Street lacrosse field in Brookline, the animal protection agency announced today.  A good Samaritan brought the kitten to the MSPCA after hearing its panicked cries from inside his home.
The cat, affectionately named "Annette" by the staff, was examined by veterinarians at the MSPCA's Adoption Center clinic, which serves the medical needs of homeless animals.  Dr. Cindi Cox ordered an x-ray of Annette's right rear leg, which upon her arrival was swollen to nearly twice its normal size.  The x-rays revealed that the leg was not fractured, however, and that it should heal completely with time.
The adoption center staff may never know how Annette became trapped in the net—or how long she was in it.  However, according to adoption center manager Alyssa Muro, the organization will pull out all the stops to find her an excellent home.
"Annette is very lucky that someone cared enough to bring her here where she could be helped.  Given the circumstances under which she was found it would only be a matter of time before she fell victim to the weather or predators."
Shelter staff report that Annette will require a quiet adoptive home, preferably without young children or dogs.  Her ordeal has left her frightened and the MSPCA hopes to find the perfect home in which she can regain her confidence, courage and trust.  It is expected that Annette will be available for adoption in the next week.
Anyone who wants to know more about Annette can visit the MSPCA-Angell Animal Care and Adoption Center at 350 S. Huntington Avenue in Jamaica Plain, MA or log onto www.mspca.org for details on when she will be made available for adoption.
<via>
.