A Good Samaritan rescued a newborn kitten when he heard her cries during a stop at a gas station last weekend. He took her home is is devoting himself to her care. Photos document the rescue.

Safe and sound after the ordeal

I almost didn't click on the link for a series of photos at reddit titled Just finished pumping some gas when I heard a tiny meow. Ended up finding this in the trash can nearby… thinking I might see something bad.
What a found was a series of photos of a tiny kitten, and a rescue story from a young man with the username LieutanantJesus. The poster stopped at a gas station somewhere in a poor, rural area in the US south  and heard meowing from a locked trash can near the gas pumps.
He looked in and spotted  a tiny newborn kitten down with the trash, then documented the sight with a photo from his phone while waiting for the station attendant to come out to unlock the container housing the trash bin.  Once he had better access, he carefully removed the little kitten, then searched that bin and the others for littermates, but none were found.
The newborn kitten is said to still have had her umbilical cord when found. Her rescuer estimated that she had been dumped overnight or earlier in the morning that day. He said she appeared to be struggling, but had not been too greatly weakened by her ordeal.
Our hero said in conversation to commenters that he had worked at a gas station himself at one point and knew that trash bags are changed fairly often, which would indicate that the kitten had been dumped not long before being found.
He brought the kitten home bathed her, worked to remove the fleas that had already settled in, and entered into a routine with dropper feeding of kitten formula.
There was initially some concern whether kitty had even had a chance to nurse from her Mama, and about the impact on her health if she had not.
The rescuer received advice about feeding, poop issues, and care from those commenting back and forth at his reddit post, as well as from a female friend studying to become a vet tech. The friend is helping out with the kitten, and it appears that either the rescuer or his friend will keep her.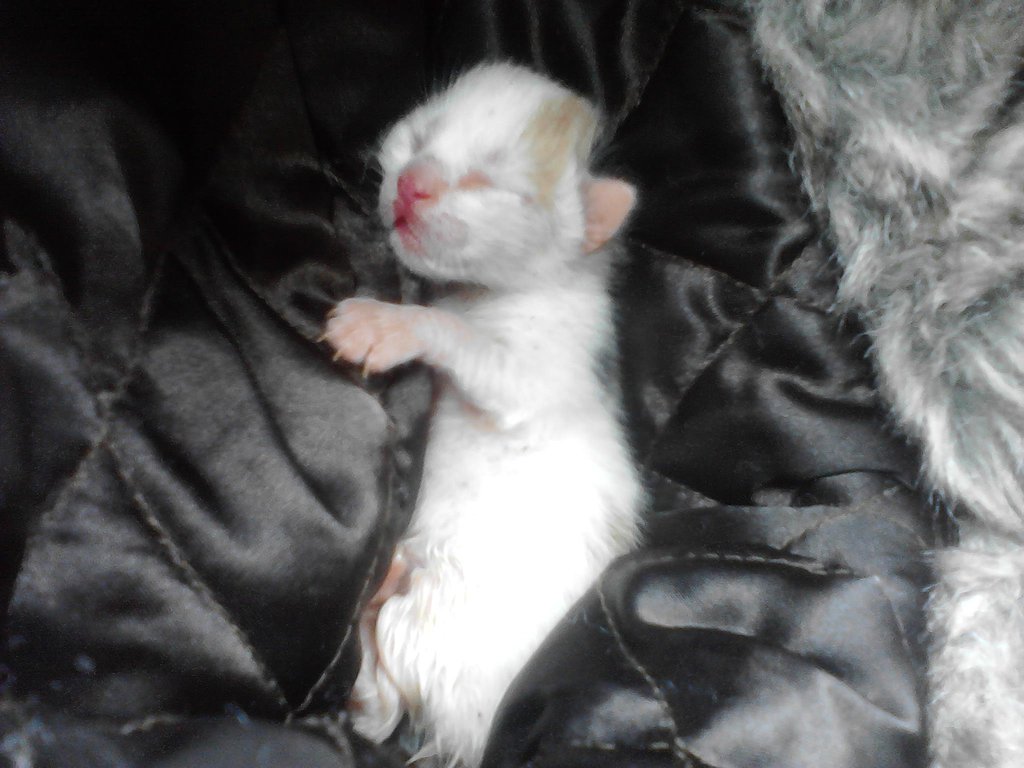 Our hero had this to say while reflecting upon the kitten's rescue …
"Just thinking about every small decision I made, and how it led me to that particular gas station, at that moment where this blind, deaf little thing decided to mew, is incredible in itself.
And now I'm up at nearly 4am, trying to get her to stop crying. She's a hungry little thing."
<via>