.
A kitten who was in very rough shape when she was rescued has rebounded beautifully, and the sweet and spunky girl has found a loving home.
Ginger, a 2-month old tabby kitten was saved by the Yavapai Humane Society's STAR (Special Treatment and Recovery) fund. When she was brought into the animal shelter by a good Samaritan, she had was badly injured, covered in tar and asphalt, her right front leg was paralyzed, and she was blind.
Because of the STAR fund, YHS' medical team was able to reduce the swelling in Ginger's brain, completely restoring her eyesight. Her lame leg was amputated and Ginger is mobile again, playing jumping, and being a happy little kitten. Ginger was adopted and is growing every day with her forever family.
Watch her inspiring video, Ginger – the Cutest Kitten on Three Legs!:
.
.
Ginger's story, and the efforts of her caregivers at YHS, won the shelter a $25,000 Petco Foundation grant to help the it continue with its good works.
The Petco Foundation also told Ginger's story, writing:
One kitten's spunky personality and will to live inspired a community.
If you met spunky, adorable Ginger today you'd never guess that the two-month-old tabby was not dealt the hand that every kitten deserves. A good Samaritan rushed her to the Yavapai Humane Society after finding her on the side of the road in Prescott, Arizona. It appeared that she'd either been struck by or had fallen out of a car.
When Ginger got to YHS she was in rough shape, covered in asphalt, tar and dirt. Her right front leg was paralyzed and it was clear she was blind.
In many communities, Ginger would have been a candidate for euthanasia, but thanks to the Humane Society's STAR (Special Treatment and Recovery) Fund, specifically designated to treat and rehabilitate animals who would otherwise be euthanized, Ginger was going to get a second chance.
"We made a decision several years ago to find a way to stop euthanizing happy, healthy dogs and cats for lack of space or resources," said Susan Bell of YHS. "We knew our community was behind us – they believed it was possible and continue to support us, which allows us to provide exceptional programs to pets in our community."
The YHS medical team got to work reducing the swelling on Ginger's brain, and, to their excitement, were also able to restore her eyesight! Her paralyzed leg was amputated, and true to her feisty spirit, she didn't let it slow her down a bit.
"In no time she was just like any other kitten; full of energy to play and full of love for snuggles," said Susan.
The whole world seemed to fall in love with Ginger. When YHS shared her photo on Facebook, Prescott, Ariz., responded with unabashed compassion.
When she was fully healed, Ginger was quickly swept up by Deb and her son, who, since the passing of their first cat, had been searching for the right pet to become part of their family. When they saw Ginger, it was love at first sight.
.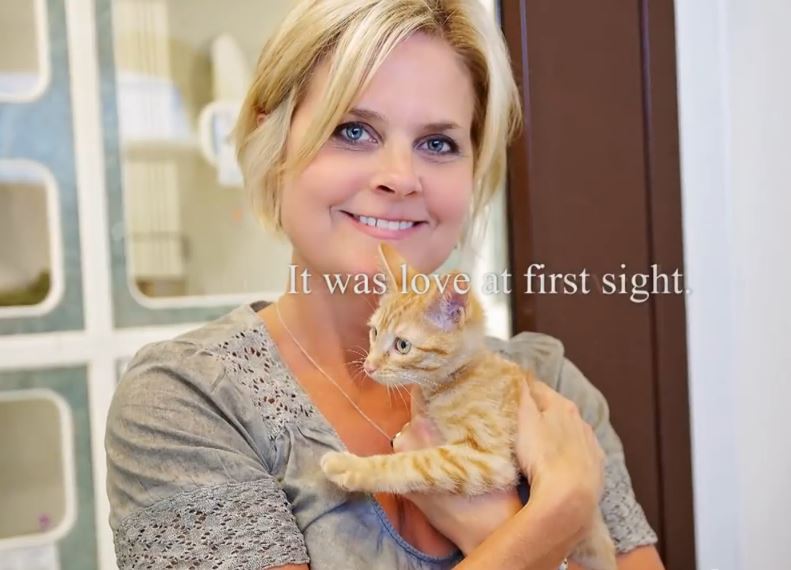 .
.