George the cat's story is story of a cat who was horribly wronged but who showed a friendly and loving nature in his darkest hour, thereby assuring that everything would be done to help him. In this regard George is like Bernice burned kitty, little Dexter kitten, little Irene who survived Hurricane Irene with a badly broken leg, and others we hear of  – severely injured cats who might otherwise have been put down but who touched the hearts of those in the position to make the decisions on their care. Like the others, he continued to charm with his adorable personality and sweet nature.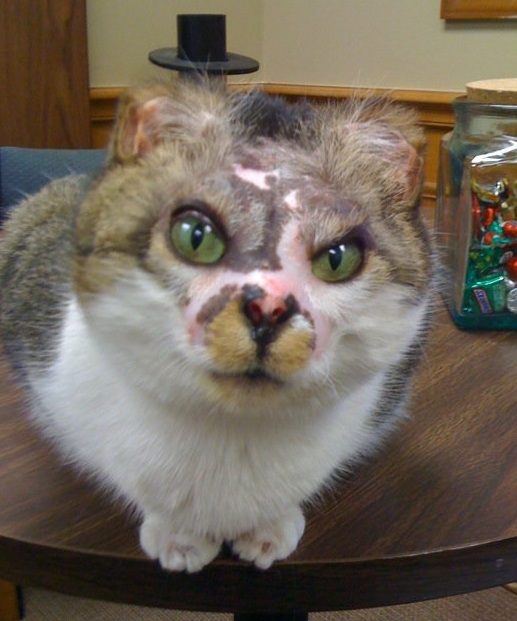 This is George, now healed. George was the mouser for an auto repair shop in Toledo OH until Halloween 2009, when he disappeared and then came back with terrible burns on his face. Geroge was surrendered to the Toledo Area Humane Society, which took a special interest in him, nursed him back to health, and officially adopted him. George happily resides at the humane Society, where the staff is his family and he has many friends from the community.
The Humane society has many pictures of George, but this is one of my favorites.
June 2010: George found the container of live catnip sitting on the counter in the office and couldn't resist helping himself…
August 2010:The result of the catnip extravaganza… he got into the Education Department's craft supplies stash!
Here is George's story as told by the Humane Society;
"It started as a normal day for Toledo Area Humane Society Cruelty Officer Gene Boros. He received a report and immediately responded to a suspected animal cruelty case where a cat was horribly burned.  After seeing the grave condition of the animal, the Humane Agent transported the injured cat to the Toledo Area Humane Society for medical care.
Dr. Debbie Johnson, the head veterinarian at TAHS, evaluated the cat as soon as he arrived at the humane society. Dr. Johnson regularly cares for cases of animal cruelty and has to work with animals that are in pain, scared and sometimes difficult to manage. She didn't expect the horribly injured cat to try to love and rub his head against her arm when she reached into the carrier for him. Even though he was in pain and in a strange environment, he was a loving, sweet animal looking for help.  George was severely burned on his head, face and front legs and in obvious pain. Dr. Johnson wasn't even sure that George still had his eyes until he was sedated for his examination.
The first days following George's arrival at TAHS were questionable. He had to have most of his ears removed and spent his first few days heavily medicated for pain. His burns were treated regularly. The whole time George was being treated, he was friendly and loving to the staff that was caring for him."
George spent his recovery period in the main offices with staff of the Toledo Area Humane Society, with his skull, face and paws, in their words," still covered with the horror of his injuries". George retained his vision but his swollen eyelids and tightened skin impeded his sight. Eventually, George received help with his eyes, undergoing what staff calls a "reverse eyelift" where skin was brought down to give him nore normal and comfortable eyelids.Surgery was performed in May 2010, at Ohio State.
Even in the early weeks of his recovery, George was described thus. "With all of these handicaps, George never stops loving everyone he comes into contact with! George spends his days going from staff member to staff member getting warmth and attention from everyone who has a moment to spare. He is just starting to get playful again, chasing after balls of paper and small cat toys tossed across a room."
Officially adopted by his loving friends at Toledo Area Humane Society
George with Cruelty Officer Gene Boros, who rescued him after his injury, in 2010, on the anniversary of his rescue.
On the job
Despite the severity of his burns and tissue loss, George is beautifully healed now, nearly two years from his ordeal as a cat victimized on Halloween, no doubt for fun.
George is one of the lucky ones; a cat who was cruelly and seriously injured, yet who survived and went on to live a safe and happy life in a loving environment. Not only is George not afraid of people after what happened to him, he is an adorably charming little good will ambassador for the Humane Society. He is an engaging and living example teaching acceptance for the specially abled and instructing against animal cruelty.
Check out the Humane Society's Flat George photo album at the Toledo Area Humane Society's Facebook Page. While the real George stays safe and sound at the Humane Society, his flat alter ego gets up to numerous adventures.
George at play.