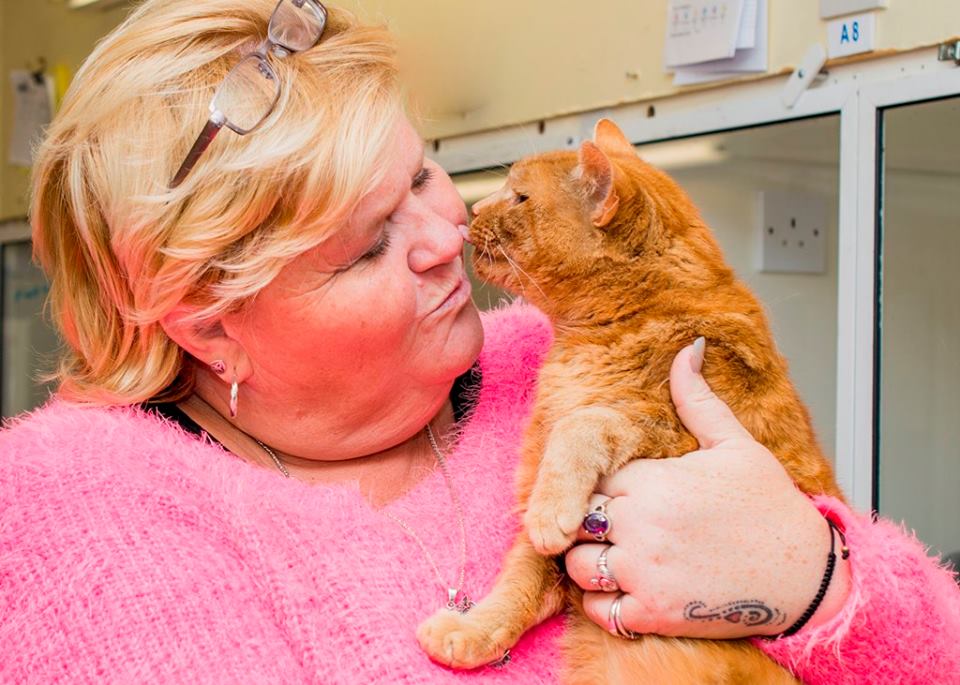 When Garfield was reunited with his petmom at the shelter Tuesday afternoon after 7 years he immediately transformed from a grumpy and unhappy cat to his old, loving self.
Cats Protection, UK's Bridgend Adoption Centre shared photos at Facebook Tuesday, showing Garfield happily and fondly greeting his petmom, Julie Calder, after 7 years, writing:
"This is the moment Garfield was reunited with his owner after being missing for 7 years, thanks to his microchip. We are not sure where he was for the first 5 years but for the last 2 years he was being cared for by an elderly lady who had taken him in as a stray. He came into our a care a few days ago as she was tripping over him.
"This story highlights the importance of microchipping, also if your cat is already microchipped, making sure the microchip company has your correct address and contact details."
WalesOnline told the story in a feature with commentary from Julie and the adoption centre's manager.
"I am over the moon to have Garfield back home after seven years," Julie said.
"I never stopped thinking about him and wandering where he was. He is going to be very spoilt now."
Shelter manager Sue Dobbs said Garfield had been very grumpy during his time at CP and the change in him when he was reunited with his petmom was obvious: "Julie just picked him up, something we haven't been able to do, and he proceeded to lick her face," she said.
"Apparently, he used to do this before he went missing. It was lovely to see.
"It's a great feeling to reunite Garfield and Julie, especially at this time of year. Thousands of cats go missing every year and sadly almost one in two never return so we're grateful that in this case at least there's been a happy ending."
Julie now lives in Rumney, Cardiff, Wales. Garfield had been living with a woman in St. Mellons, near his and Julie's former home, a few miles from their current residence.
Garfield's identity was discovered when the elderly woman caring for him for the past two years turned him over to Cats Protection when she was no longer to care for him. Garfield's microchip connected him with Jlie, but it took some work to track her down, since her contact information was out of date. The shelter advises petparents to microchip their animals and keep their contact information up to date.
Shelter manager Sue Dobbs reminded people who feed or take in strays to get them checked for identification, saying: "And if you are feeding a stray too, then consider ringing a local animal charity or a vet to see if a scan may reveal a microchip."
Garfield is now safely back at home.