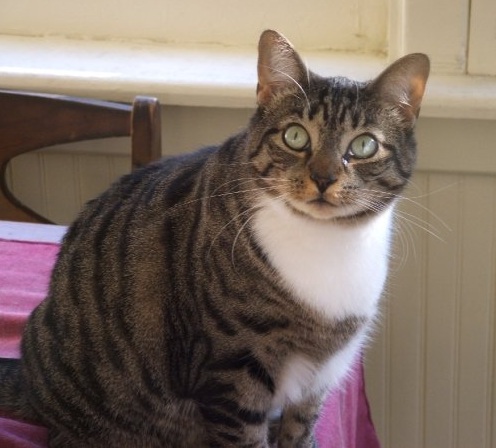 Catlover Joni Gallo adopted two beautiful sisters from Animals in Distress  in 2005.  The girls both succumbed to FELV this year, within weeks of one another. Joni has raised money to sponsor the 7-8am hour in memory of Karma and Dharma on Tue. July 12, during the WAEB Radiothon for the shelter during its most important fundraiser of the year.
Photo at top of page, Dharma.
Animals in Distress is a no-kill shelter in Allentown PA, which takes in the most hopeless cases. The shelter does great work and helps cats and dogs that have no other options. AID operates solely on donations, and 2011 has been a very difficult year. The shelter's biggest fundraiser of the year is being held this week, July 11-17, as radio station WAEB hosts a Radiothon all week for AID, with special sponsored hours during Bobby Gunther Walsh's 5-9am show.
The 7-8 am hour on Tuesday, July 12 is sponsored by Joni Gallo in memory of her two girls. A donor will match funds with the amount raised during the broadcast.
WAEB and the Radiothon can be heard on the internet.
WAEB 790 AM Radiothon
BOBBY GUNTHER WALSH 5-9 AM HOST DURING RADIOTHON: HIS PAGE

WAEB TALK      LISTEN HERE
Caution: The radio station has several hours of talk radio programming which many listeners will find offensive.
WAEB OLDIES  LISTEN HERE
Karma's and Dharma's Story:
Karma and Dharma were two kittens found living together under a car during a snowstorm. Both had serious respiratory infections, that if left untreated, would have probably killed them. They were fortunate that the car they were living under was owned by a woman who worked at the no-kill shelter, Animals in Distress. The kittens were trapped, taken to the shelter, and given vet care. Though shy at first, they quickly came out of their shells and thrived under all the attention they got from the many visitors to the shelter. Because they were over 6 months old, however, they were often overlooked for adoption.
Karma and Dharma's future mom, Joni Gallo, of Bethlehem PA, came to the shelter as a volunteer, saw the girls, and quickly fell in love. Dharma looked very much like the kitten she'd lost, Benny, and Karma was a stunning beauty. Once Joni secured a full-time job, she put in the application to adopt Karma and Dharma. Both girls came home with her on May 30, 2005. All went well for several years.
Karma at left, Dharma at right.
After Joni adopted a playmate for the girls in early 2008 (Colt), things suddenly changed. First Karma became ill and then Dharma. Another cat, Princess, died. Finally, at the end of the year, it was discovered that Karma and Dharma carried the feline leukemia virus. Neither cat was well and continued to be ill for the next few years.
In May, 2011, Karma finally succumbed to a bacterial infection. Dharma had been ill for several months with a misdiagnosed condition, thought to be a respiratory infection, but finally determined to be a brain tumor. Ms. Gallo spent thousands of dollars tying to help her  girl but illness finally won out and  Dharma died on June 25.
Still, Joni feels eternally grateful to the shelter that gave her these truly special girls. She would love nothing more than to give something back to the shelter as a gift in memory of her precious darlings, Karma and Dharma, who meant the world to her.
The Radiothon hour will be in memory of the dear, sweet sisters who meant so much to their petmom and who are missed by the remaining kitties in the household. Joni raised $500 to sponsor the hour, along with some of her caring Facebook friends.
Karma
Joni's efforts for the shelter are not just for her girls, but for the wonderful and important work the shelter does for other cats
Joni has provided this information about AID and the Radiothon.
Animals in Distress – The Bottom Line:
Animals in Distress is a no-kill shelter in Limeport, PA, just outside Allentown. After 4 months of operation in 2011, they found themselves in the red by $130,000 due to the rising costs of utilities, vet care, food, and medicine. Also, the demand and need for help in taking in unwanted pets keeps growing as the economy worsens. Since the shelter does not get any taxpayer money, they rely totally on donations for all operating funds. The annual Radiothon held in July is the shelter's biggest fundraiser. Many companies who used to donate are unable to give. With donations given in Memory of Karma Gallo, we can do a challenge hourwhere people can call in and match the amount that was donated and double the money.
__________
Here's info for anyone who wishes to participate in the Radiothon and donate to this worthy animal shelter. The following comes from WAEB and includes links to AID pages.
HOW TO PHONE IN A PLEDGE/DONATION:
Phone in your pledge to the numbers below! Phone lines provided by Ironton Telephone!
Phones open Monday, July 11th and will stay open throughout the Radiothon! Remember…. tune in to Bobby Gunther Walsh (Weekdays between 5-9am) on WAEB for special matching hours where you can double your donation dollars! Also tune in for matching hours on Saturday and Sunday, where you can also double your dollars!
MON-FRI DONATION PHONE #: 610-841-4999 (Phones open all day, Mon-Fri)
WEEKEND DONATION PHONE #: 610-967-4417 (Saturday/Sunday)
WANT TO DROP OFF YOUR DONATION:
Saturday, July 16th: Gunther will be LIVE at the Allentown Fairgrounds Farmer's Market from 8am-4pm (near Dan's BBQ); You can also drop off your donations at the AID Shelter… a Continental breakfast will be provided at the Shelter by the Giant Food Stores Bakery!
Sunday, July 17th: Gunther will be LIVE at the AID Shelter in Coopersburg from 8am-6pm
July 18th-Aug. 12th: You can still drop off your donations in person at the Shelter. Hours are Tues, Thurs, Sat, Sun – 1-4pm; Pledges accepted through Aug. 13 marked "RADIOTHON" will be eligible for prize incentives!
MAIL IN YOUR PLEDGES:
Download the Donation Form Here!
Mail to: RADIOTHON, c/o Animals in Distress, P.O. Box 609, Coopersburg, PA 18036; Mark your donation "RADIOTHON!"
**************************************************
CLICK HERE FOR A MAP TO THE AID SHELTER!
CLICK HERE TO SEE RADIOTHON WEEKEND EVENTS!
CLICK HERE to see the 2011 Prizes (Donate and Win!)
CLICK HERE to see some of the Animals in Distress Rescues!
**PLEASE TELL YOUR FRIENDS!! PASS THE WORD AROUND ABOUT THE RADIOTHON AND MAKING A PLEDGE ON YOUR SOCIAL MEDIA PAGES!! HELP US HELP THESE GREAT ANIMALS!**
About the Shelter/Cause: The Radiothon helps generate funds for animal care at the Animals in Distress Shelter. This no-kill shelter is a non profit, tax deductible sanctuary filled with 400 cats and dogs. Many of these pets have little or no hope elsewhere. AID's programs are designed to prevent suffering and save lives! No animal is ever killed because it's unwanted, too old or injured! All donations are used for animal care expenses since no one is paid for administive, fund raising or other non animal care duties. The Shelter relies on the help of unpaid volunteers and on fundraisers for it's total operating budget. This shelter receives no tax or public monies. If you're like more info on AID Shelter & its programs, click here!