Despite dangerous radiation levels, dedicated teams from several groups are conducting rescue missions into the restricted zone surrounding the damaged Fukushima nuclear power plant in the Northern Japan disaster area, to save cats and dogs left behind when the evacuation order was given.
Time may be running out, since as of April 20 the Japanese government is considering giving residents a brief window in which to return for their belongs, and presumbly their pets, before the danger zone is made more strongly off-limits.
In answer to the question "How could the residents just leave their beloved cats and dogs behind?"; residents were initially told "Evacuate immediately, but you will be able to come back here within a day or two" so they left everything including their pets, since they were told pets were not allowed in the shelters.  Then the residents were told that the radiation zone area had  officially become off-limits and that they were not allowed to go back to their homes to get their belongings, pets or other animals. Rescue groups and some residents have gone anyway, but we do not know how much longer they will be able to do so.
Here are some of the pets who've been rescued and given shelter. Some have been reunited with their families, many are waiting for their families to come for them. Online Animal Finder bulletin boards have been set up to match the rescued pets with their families.
The animals in this post were all rescued by a coordinated effort between the groups Cat People Nekohitokai, Animal Friendship, and Noraneko Sumida.  Many cats and a seemingly smaller number of dogs have been saved by these particular groups' combined effort, and we've included a small sampling of their images in this post. They are a few of the many faces of rescue from this dire tragedy.
The cats' eyes tell us they are scared, disoriented and missing their families and the lives they knew before the triple disaster began on March 11.
While stranded in the unpeopled evacuation zone, they faced starvation and the dangers of radiation in addition to the unsettling strangeness of living in a suddenly abandoned world.
Trapping efforts have been successful because the cats are hungry and willing to enter the traps for food. Rescuers leave a note with the cat's description and contact information in case the pet's family returns, looking for them.
Cats and dogs receive radiation screening upon leaving the restricted area; fortunately, this group was not strongly affected by radiation.
Foster families and adopters are needed to provide both temporary care and new homes. Many of the rescued pets are cared for in private homes, depending on the facilities and practices of the various rescue groups. A couple of the dogs shown here have been happily reunited with their families.
Many dogs stay in the immediate vicinity of their homes; they sit and they wait for someone to return.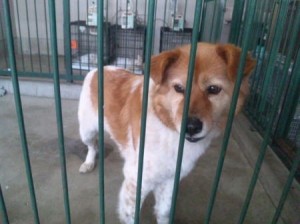 The cats and dogs in this particular group were all rescued earlier this month. Fortunately, most of them do not appear to have suffered too greatly from starvation or injury between the time they were stranded and the time they were rescued, but the experience of being left to fend for themselves with their families and neighbors suddenly gone must have been peculiar indeed.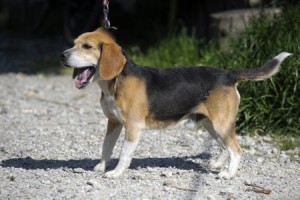 Thankfully, many people have banded together to enter the restricted zone, to their peril, to show the cats and dogs of Fukushima Prefecture that people can be counted on to take care of them.
Video showing part of the rescue.