Followup on a cat saved through social media networking, with an inside view of the story told by a member of the transport group that helped get her home.
Min-Yin and Mom
When we shared the story of her rescue, readers were touched by the heartbreaking shelter intake photo of Squirrel, just as Facebook animal rescue networkers had been not long before.
Squirrel is Saved told how a post at the Community Cats of Florida Facebook page was shared over 2,000 times and resulted in Squirrel and her two siblings being saved.
Squirrel, Chipmonk and Mouse were in Florida at Broward County Animal Care, and their time was running out. Adopters came forward, and people worked to pull the cats, give them temporary care, and help coordinate their journeys to their new homes.  At the time of our May 30 story, Squirrel was just a few days away from going to her new home.
Home at last.
Kelly from the Underground Railroad Rescue Kitty Network wrote to use with an update on Min-Yin
My name is Kelly and I am the transport director for the Underground Railroad Rescued Kitty Network (URRKN).  I'd love to share an update with you on Squirrel/Min-Yin and her brothers.
First of all, the foster that picked them up, Beth, has been a member in our group for some time now. She had this to say after driving 4 hours to pick them up, "…it was such a joyous moment in the waiting room….the entire lobby lit up as I transferred them from the cardboard box that they came in to a real kitty carrier…..of course I was full of delight at how truly precious they were and I squealed in delight..yes, I really squealed…at that moment, everyone is the lobby wished they were me since I was the lucky one getting to take them home (even if it is for just a short period of time)."
Beth then drove across the state the next day to meet Min-Yin's new Mommy, Karly, who drove from South Carolina to get her. Karly has this to say, " I was expecting her to be fearful for awhile, but that was not the case. She settled in just fine and her personality is bursting at the seams. I couldn't have asked for a more loving kitten, and it makes me smile every time I see her being a happy kitty. All it took was a simple share on Facebook to jump start a lifetime of happiness for these three little kittens."
So that leaves Chipmonk and Mouse in Florida, both with new homes waiting for them. Chipmonk has been adopted by Liz in Rhode Island. URRKN is now planning the transport of Chipmonk to his new forever home. Liz is so overwhelmed all she can say is she is "wicked excited" to get him there. Mouse will be going home to Angie in Colorado. URRKN is in the pre-planning stages of his transport. Angie was a bit more effusive, "By contacting each other on face book and working out who wanted which kitty, we bonded together and with lots of messages, and emails and hoping and persistance, they were pulled and fostered. I have kitty sisters in three states and a fabulous network of kitty helpers. I am anxious to have my Mighty Mouse here at home with us in Colorado!"
What do you get when you put together 3 kitties in need, 1000's of FB shares, and 4 incredibly determined women? 3 lives saved, lifelong friendships made.
The Underground Railroad Rescued Kitty Network is a fast growing group that sprang from the mind of our founder in response to the need to have a safer way to get kitties home. It is wholly inspired by the tragedy of Jack the Cat. We like to think that Jack has his paw on us. It sure does seem that he is watching over us and providing miracle after miracle. We love you Jack!
Chipmonk will be "riding the rails" the weekend of July 14th. He leaves Deltona, FL at 8am on the 14th. He'll overnight at an exclusive URRKN b&b in NC, and make his way home on the 15th. The Underground Railroad Rescued Kitty Network is as excited to be a part of his story as his new family is to have him. We'd love for you to drop by and cheer little Chipmonk on as he makes his way home.
__
The URRKN has a group on Facebook instead of a page, but they welcome new members. You can find them on Facebook HERE.
Meanwhile, Min-Yin, has begun her new life, which she shares with us all at her Min-Yin(Squirrel) Facebook page. Karly wrote there on June 20, "Day by day Min-Yin's personality grows, and boy does she have a lot of personality! She now enjoys hiding behind things and pouncing out at everyone that walks though the house, and I love it ♥."
Min-yin is becoming the beautiful cat she was meant to be, and she is happy, playful and talkative. Several of her photos show her climbing up on her new Mom's shoulder for snuggles.  She is obviously very grateful to have a safe and loving home and a beloved protector.
As Kelly has said, thanks to Facebook and caring people, cats whose time was just about up because they were not the most outgoing and appealing animals at the shelter, got their chance at having good new lives. Min-Yin has already gotten a good start at hers.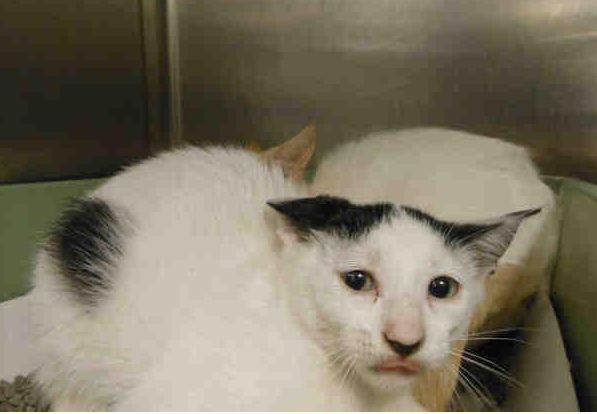 Before: The photo that was shared 2,000 times
After: Home, in early June, a different cat, already.