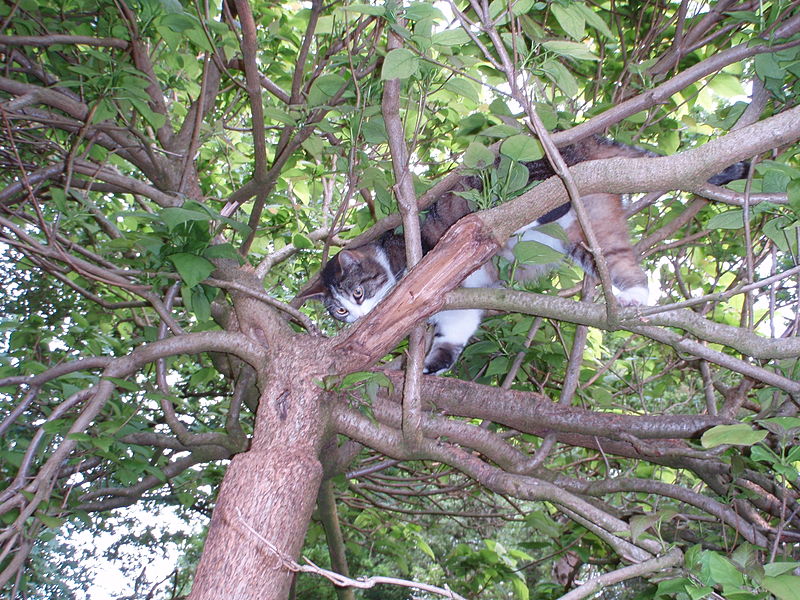 Firefighters in New York City found themselves coming to the rescue of a cop stuck up a tree Wednesday after the NYPD officer climbed up to try to save a cat and got stranded himself.
Police Officer Dane Natto and his partner arrived at the scene near a Queens elementary school that was letting out for the day, after receiving 911 calls from local residents about a black and white neighborhood stray stuck up in a tree.
Several school children watched as Natto climbed the tree to get the cat, bit kitty kept moving further up the tree and away from the trunk as the officer neared. Natto finally realized that not only was he unable to get the cat, he too was stuck up the tree.
With Natto stuck 30 feet above the ground, his partner called the FDNY for help.
The incident played out to the amusement of a growing crowd of onlookers below.
When firefighters arrived, "they didn't go straight to helping him," a witness said. "They all gathered around and laughed at him. They took their time just crowding around. It seemed the officer was enjoying himself."
The firefighters used a ladder to save the cat. Natto then used the ladder to climb down. His descent was greeted with applause from the crowd.
The good-natured officer and residents all had a good laugh, and the cat was taken to a local veterinarian.
<via>