Can you imagine trying to save your cats from a fire at your home, only to have your panicked pets keep running back inside? That's what happened to Antonette Farmer when fire broke out at her apartment in Spring, Texas on Thursday.
A raging fire at the Polo Club On Cranbrook Apartments, where Antonette lives with her children and her cats, made its way into her unit, bursting through a closet and into the apartment.
Antonette rushed around trying to save belongings and the cats but was thwarted as the cats continued to run back in after being tossed out to safety.
"A minute later [after she saw smoke pass by her patio window], just flames started bursting out of the closet," said Antonette. "And I was like, 'OK, let's get what we can and let's get out. Let's go.'"
"I tried to get the cats out," said Farmer. "I kept throwing them out the apartment and they just kept running right back in."
Firefighters rescued all of Antonette's cats. Two of the cats suffered ill effects from the smoke and fire but are expected to make a full recovery.
Antonette is grateful to the firefighters and is relieved that her children and pets are safe.
"I'm glad my babies are alive and that they're OK and that they didn't get any smoke damage to their lungs," she said.
The fire destroyed one building in the apartment complex and residents have taken temporary shelter provided by the Red Cross.
Note: This is the second fire in Spring this week where cats were rescued. See Cat is Rescued Following Garage Explosion for the earlier story.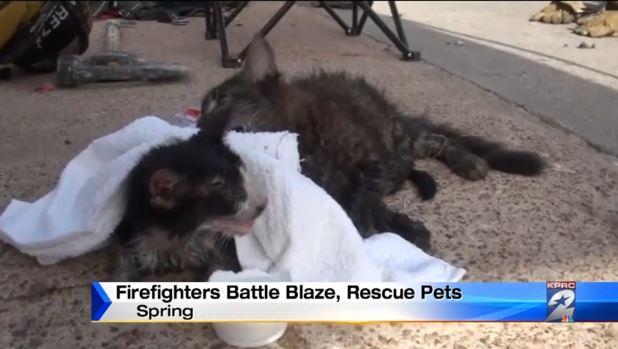 .
.