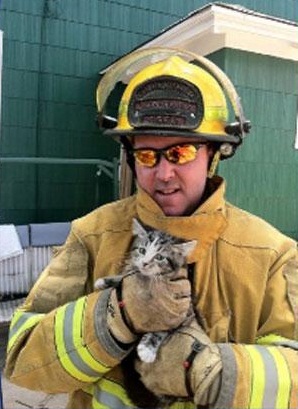 "CSFD working to rescue a cat from a tree at 312 Cimmaron," said a tweet from the Colorado Springs Fire Department just before noon yesterday. Since we hear so often that firefighters decline to get cats down from trees we thought this deserved mention.
While we hear of firefighters and EMTs rescuing cats from various dangerous circumstances with some regularity, we don't hear much about them conducting the classic cat in tree rescue anymore. Quite often we hear that the FD tells a person with a treed cat to wait and the cat will come down, or that they do not go on cat in tree calls any longer.
Monday in Colorado Springs CO there was such a rescue, when members of a community group heard meowing and called for help. They were meeting in the house next door to the kitten's family's home.
CSFD Truck 1 brought out a 28-foot ladder and a firefighter went up, according to Sunny Smaldino, spokesperson for the Colorado Springs Fire Department. Mr. Smaldino continues, saying the firefighter spent a few minutes coaxing the scared, crying kitten to come towards him, and when the kitten got close enough, the firefighter grabbed it.
"It's not very often we save kittens from trees, they normally come down on their own," Smaldino said.
The kitten's family was not home during the rescue but they had left a window open, so firefighters put the kitten back in the house through the open window.
Photo and story source, ABC7 News, Colorado