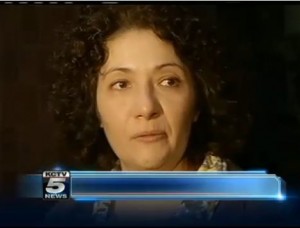 Annette Betancourt went to trial yesterday for violating a city animal ordinance in Liberty, Missouri and was found guilty by a jury the same day. She expressed disappointment at the outcome of the case that put her TNR and feeding practices on trial.
We covered the story last night in Feral Cat TNR Advocate Found Guilty After Going to Trial to Defend Her Work.
Annette moved to Liberty in 2008 and discovered cats living in the woods behind her home. She took it upon herself to help the cats and provide a service to the community by conducting TNR paid out of her own pocket  She also fed the cats.
She got into trouble when neighbors complained to the city, and was warned, then cited for creating a public nuisance and violating the law. Liberty imposes a four pet limit for cats and dogs in households, and claimed that Annette exceeded that number by caring for the ferals. She limits her own pets to four and insists that the stray and feral cats are not hers.
Annette spoke out last night following the trial, saying "I'm very upset. I wished they'd understood what I'm doing is a good thing for the community. I'm preventing more homeless cats being born. I'm fixing them with my own money and providing a service to my neighbors too. Apparently the jury didn't see it that way."
A neighbor told the jury that Annette's practice of feeding the cats draws them to the neighborhood.
Several cat advocates and TNR prqctitioners attended the trial to support Annette, and some of the disappointed supporters made remarks to KCTV afterward. Emily Conrad said, "I mean this is a community problem and when a jury doesn't understand our cause, it's absolutely scary because this could happen to all of us."
Annette was sentenced today. She could have gotten up to a $500 fine and 90 days jail time. The jury recommended that she not go to jail, and the judge imposed a $200 fine. Annette commented,  "I was relieved actually. I thought they were going to go as far as throw me in jail for providing this valuable community service." She said community cat caretakers would now have to live in fear that their neighbors were watching them.
Liberty's Animal Control officer has not been supportive of Annette's efforts. The city's policy on ferals is trap and kill.
Volunteers offered to take care of the cats, and will remove them to safety.  Kitty Cat Connection, an organization from Kansas City, Missouri, will remove the cats. "We are going to trap these cats from the feral colony that Ms. Betancourt has been feeding and help them be transported to barn homes where they can be sheltered," said Sharon Jones.
We first covered the case on October 28, in Petition: Feral Cat Caretaker Seeks Change in Local Law.
KCTV5
.