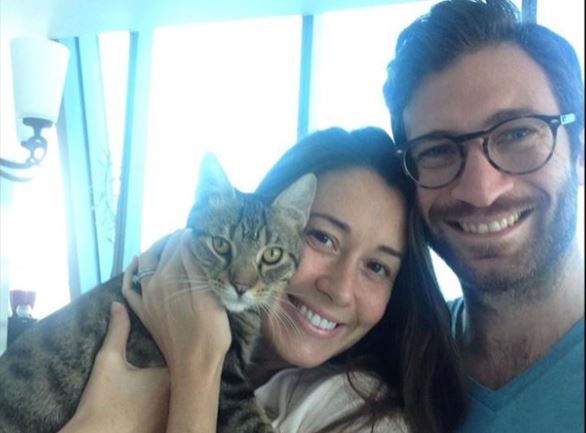 It's happened again. Another cat has become lost at an airport during transit, and once again it's happened at JFK airport in Queens, NYC. As we have heard too many times in such cases, Felix got out and escaped from a sturdy and secure carrier that was mishandled and damaged, presumably by airline baggage staff.
American Jennifer Stewart and her husband Joseph Naaman purchased a sturdy pet carrier and paid $1,200 to ship their 2 year old cat Felix on a 14-hour flight from Abu Dhabi to New York City on an Etihad Airways flight on April 1, as the couple relocated to the US after living and working in Abu Dhabi for the past three years.
The airline says Felix went missing on the ground after the plane landed at JFK that evening. His sturdy new carrier was broken on the top and sides.
Jennifer and Joseph were called into an office at JFK by a cargo manager who told them the carrier was crushed and their cat was missing.
"You pay all of this money, but for what? People assume you pay extra to have your pets taken care of, but they're treated no differently than a free piece of checked luggage," Jennifer is quoted saying at CNN International.
Jennifer wrote to the experienced searchers at Jack the Cat is lost in baggage at JFK at Facebook, saying: "After some gross negligence by Etihad Airlines, we discovered our cat's carrier had been crushed and our cat had escaped on the grounds of the JFK airport yesterday around 5:30pm."
The Jack the Cat page was set up back when Jack went missing in 2011. The missing cat's family used the page to network with locals who searched and developed helpful contacts at JFK airport.  Jack was eventually found when he fell through a ceiling tile in the American airlines baggage area, but he'd gone without food and water for too long and shortly thereafter died.The page became the heart of a community of animal lovers. The organizers and community continue their efforts to find missing pets, especially those lost at airports.
Jennifer continued, in her note to the experienced searchers: "This is after they had forced us to buy a new, larger carrier before shipping him cargo from Abu Dhabi, our original, more sturdy, yet slightly smaller carrier had to just be uselessly checked in with our baggage. We were relocating back to the US after 3 1/2 years and so excited to take our 2 year old Arabian Mau Cat (tabby cat) with us. He's such a special part of our family and couldn't imagine this move without him. We are incredibly heartbroken.
"If there is anything at all we can do outside of calling people who seem to continuously give us the run around or have no clue the situation, we would be so grateful for any and all advice. Kindest, Jen & Joe"
The Jack the Cat crew reached out to their contacts and prepared to search for Felix. They updated the FOJs (Friends of Jack) on April 3, saying:
"Good morning, FoJs… we are working hard to find Felix, the cat who was lost by Etihad Airlines. The good folks at Terminal 4 of JFK – who we worked with in the cases of Xiaohwa and Gyzmo – have been extremely cooperative. Bonnie Wagner-Westbrook will be representing Where Is Jack? Inc. to make sure all goes well for Marj Lineweber and her team (of dogs and humans) and for Felix's pet parents during the search, which will take place tomorrow afternoon. I will keep you updated with details and any media coverage. In the meantime, please keep Felix and his family in your highest thoughts. To have something like this happen on top of an international move is a type of stress most of us – thankfully – will never have to feel. Your encouragement of them and the search team is deeply appreciated. Just as we did for Jack, so for Felix… KEEP THE FAITH!!!"
A search was conducted on Saturday, April 4. Felix was not found. The Jack the Cat crew will continue to work with Felix' family and JFK in their efforts to find Felix.
Etihad Airways says it is investigating the incident and has hired specialists to work with ground handlers in a search for the missing pet. at the airport to help locate the missing cat.
"We deeply regret this unfortunate incident and are keeping the owner apprised of the progress of the search," Etihad Airways told CNN in a statement. "We will review our pet handling procedures in the wake of this incident, as the safety and care of pets traveling with Etihad Airways is a top priority."