OK, so your cat doesn't actually need a bow tie to be more lovable. But cats and cool neck wear kinda go together. (Consider world famous Bob the Cat and his scarves. Or Mr. Magoo the Blind Kittty and his nifty bow ties).
Also, petmd.com says that dressing up your pets is a nice way to give them extra attention and spend quality time together. And then there are the endless photo opportunities!
Why else would Cats of Instagram have a Bow Tie Tuesday if some cats were not natural feline fashionistas?
Cats in bow ties can be formal, funny, annoyed, coy or cute.
Bow ties are better suited for adult cats, but kittens can wear them too.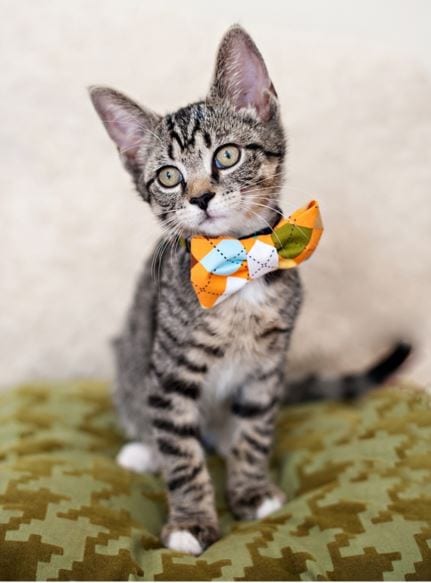 And they can help a guy or gal get adopted, like Raspberry here, at Persian and Himalayan Cat Rescue.
And there are endless kitty bow ties from which to choose. Remember to buy safety-release collars and bow ties for your cat. For more cats in bow ties, check out the gallery of photos at businesscatual.com.
About Author